Are you planning a nice Disney getaway and want to know what the best rides at Blizzard Beach are for your trip?
Water parks are a summer essential and at Walt Disney World that means a day at Disney's Blizzard Beach Water Park or Disney's Typhoon Lagoon Water Park.
Since the later is currently closed we thought it would be fun to talk about the best rides at Blizzard Beach that you have to get on this summer either by yourself or with a group of friends.
No matter if you're looking for something calm and relaxing like the lazy river or a thrill ride like Summit Plummet, there's something for everyone at this Disney water park.
THIS POST MAY CONTAIN AFFILIATE LINKS. PLEASE READ MY DISCLOSURE FOR MORE INFO. Which means if you click on certain links, I may receive a small commission at no additional charge to you.
1. Summit Plummet
Why We Love It: The tallest and fastest water ride at Disney's Blizzard Beach is Summit Plummet. The body slide is known for its 12-story almost vertical drop, where you'll be going almost 60 miles per hour.
While you can take the stairs all the way to the top of the peak, the better and more fun way is to take the chairlift. Making it one of the best rides at Blizzard Beach.
2. The Chairlift at Blizzard Beach
Speaking of chairlift, it's another must-do. Even if you're not planning on riding Summit Plummet, there are two other ride entrances at the top. The first is Slush Gusher and the second is Teamboat Springs.
Why We Love It: The Views! You're able to get a bird's-eye-view of Disney's Blizzard Beach water park. Not only is it so much fun, it's also a nice way to relax and enjoy the scenery of this aquatic park.
You will need to decide quickly what ride you want to get on while taking the short ride to the top since the unload area is small, and you cannot ride the chairlift back down to the bottom of the slides.
ORDER NOW to secure your Walt Disney World theme park ticket! GET MY TICKETS.
3. Cross Country Creek
Cross Country Creek is the lazy river at Disney's Blizzard Beach Water Park and it's one of the longest in the entire country.
Why We Love It: The lazy river takes you completely around the water park so you can see all of the sights and sounds of the rides and people while you sit back and relax.
One of the best parts about this lazy river is that there are multiple entry and exit points, so you can get in and out easily as you pass by other rides you want to do.
4. Runoff Rapids
One of the best rides at Blizzard Beach is Runoff Rapids because it's actually three rides in one.
Why We Love It: The line ends up leading to three different enclosed water slides that spin and push you through until you reach the end where you splash down in a pool before getting back in line again to try the other two slides.
Each of the slides are propelled by water from Mount Gushmore, which is the park icon at Blizzard Beach.
5. Downhill Double Dipper
The best part of any water park day is racing your friends down the slides to see who can get to the bottom first. At Blizzard Beach there's a tube slide that's actually designed with a timer to see who got to the bottom first.
Why We Love It: The Downhill Double Dipper releases both riders at the same time to see who made it to the splashdown first.
Be sure to check the time before tossing your tube back into the return bin and heading somewhere else in the park.
6. Toboggan Racers
Why We Love It: Another fun racing slide is the Toboggan Racers. Your entire group of friends can race against each other to see who makes it to the bottom the fastest. Making it one of the best rides at Blizzard Beach.
This ride is very similar to the big slides that can be found at fairs or carnivals but more fun because it's at a water park.
Ready to start planning your next Disney World vacation? Listen to the latest podcast episode on Apple or on your non-Apple device now!
7. Teamboat Springs
Why We Love It: One of the family raft rides at Blizzard Beach is called Teamboat Springs. Each raft can fit up to six people as it glides down slopes, through tunnels, and under waterfalls.
The ride ends with you awkwardly trying to get out of the raft, but it's all in good fun. And it's a water ride that every aquatic park must have!
8. Slush Gusher
For those who aren't quite ready to take on Summit Plummet but are looking for a fun body slide, consider Slush Gusher.
Why We Love It: The slide is 90-feet long and has two rolling hills that you'll glide over before splashing down just off to the side of the ominous Summit Plummet. Making it one of the best rides at Blizzard Beach.
Ready to plan your theme park trip? Watch the best vacation planning tips on YouTube. Get started here!
4 Pro Tips for Disney's Blizzard Beach Water Park
Now that you know what the best Blizzard Beach rides are, let's go through a few tips to conquer your water park adventure!
1. Get there early
Because Blizzard Beach is only open from 11 a.m. – 6 p.m., you'll want to get there just before 11 a.m. to get the most out of your time there.
Be sure to hit the bigger rides like Summit Plummet or Teamboat Springs first before hitching a ride on the lazy river to get to the other side of the park.
2. Rent a cabana
Around the park you'll find cabanas called Polar Patios. These little porches are a great spot to relax, munch on snacks or just take a little outdoor snooze in the middle of the day.
3. Know how to use the Disney mobile order service
Just like the Walt Disney World theme parks you'll need to know how to mobile order at Blizzard Beach to be able to get lunch around the parks.
Ordering at popular times between 12 p.m. and 1:30 p.m. can bring longer waits, but if you order a little early you can secure your spot in the lunch line.
4. Get the fresh donuts
On the way out of Blizzard Beach you'll notice the sweet smell of fresh donuts.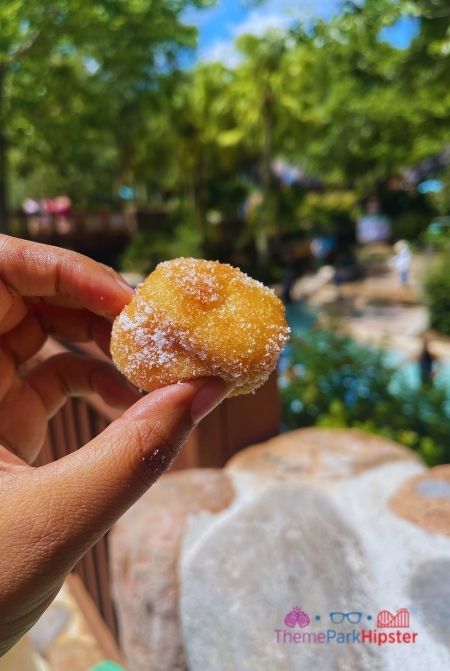 Near the entrance of the park you'll find a Joffrey's coffee stand that makes fresh mini-donuts with dipping sauce that are worth the trip to the water park alone.
5. Know What Rides and Attractions are Available at Blizzard Beach
Now that you know what some of the best Disney water park rides are, you should should know what attractions and entertainment are available for you before you go.
How many rides are at Blizzard Beach?
There are currently 12 attractions and rides at Disney's Blizzard Beach water park. Here's the current list:
Chairlift
Cross Country Creek
Downhill Double Dipper
Melt-Away Bay
Runoff Rapids
Ski Patrol Training Camp
Slush Gusher
Snow Stormers
Summit Plumett
Teamboat Springs
Tike's Peak
Tobaggan Racers
Choose the BEST Day to Go to Walt Disney World with This Crowd Calendar!
Final Thoughts on Your Blizzard Beach Trip
As you can, there are so many things for you to do at this Disney water park! Blizzard Beach is definitely a park that you want to put on your Walt Disney World vacation itinerary.
What's the best ride at Blizzard Beach to you? Let us know in the comments section below.
Until next time, Happy Park Hopping Hipsters!
About the Author
UP NEXT: SMACKDOWN: 7 BEST Rides at Typhoon Lagoon All RANKED!
(Original Article Date: July 8, 2021/Updated by Editor on April 22, 2022)