Simpson fans, listen up! Are you looking for the best guide to Moe's Tavern at Universal Studios?
Look no further!
Universal Studios has made your deepest desire come true in a Simpsons-inspired lounge.
You can finally fulfill your destiny and step into grumpy old Moe's Tavern (a pet shop at one point).
This bartender/ wildlife smuggler/ unlicensed surgeon is one of the most iconic Simpsons characters and if you have good taste. And I assume you do because you are reading this because you have a fondness for him.
Well, this is your chance to have a go at The Love Tester and have a glass of Duff Beer or the signature Flaming Moe drink.
If you have come this far and have no idea what I'm talking about, then it's time to educate you on the lovable classic cartoon that basically raised an entire generation of Millennials.
This article will tell about all the things you need to look for and everything that's offered in Moe's Tavern at Universal Studios so you don't miss out on a single experience.
Let's get started!
THIS POST MAY CONTAIN AFFILIATE LINKS. PLEASE READ MY DISCLOSURE FOR MORE INFO. Which means if you click on certain links, I may receive a small commission at no additional charge to you.
The Backstory of Moe's Tavern
You may be a die-hard fan of The Simpsons or you may have heard the name in conversations. Either way, you know that it is a big deal.
This animated series has been playing out since 1989 and has over 700 episodes and over 27 seasons.
Its first season itself won an Emmy Award and it has continued winning and being nominated for many more awards. The franchise also had a movie!
Springfield U.S.A. at Universal Studios
This American series set in the fictional town of Springfield is about a dysfunctional working-class family based on the script-writer Matt Groening's own family.
It started as a sketch on The Tracy Ullman Show and ended up being one of the most popular animated series in history.
The plot revolves around the Simpson family (obviously) consisting of the parents– Homer and Marge Simpson and their three children– Bart, Lisa and Maggie.
In Groening's words, 'The Simpsons' is about alienation and the ambivalence of living with a family who you love but who drive you completely crazy.
Meet the Simpsons
Homer Simpson is the ultimate manly man who his loves beer, his wings and his doughnuts while his wife Marge is a sensible and caring woman who tries to keep her family out of trouble.
As for the children, Bart is the trouble-maker of the lot and loves pranking everyone around him.
His sister Lisa is sensitive, intelligent and basically a child prodigy.
The youngest child Maggie basically suckles a pacifier most of the time and loves copying weird things from TV shows.
Check out my latest theme park adventures on Instagram TODAY!
Alright, but who is Moe in the Simpsons Lore?
Moe (finally we come to the point) was the owner of the bar that Homer frequented. He is the owner of Moe's Tavern and given his anti-social attitude, he is also the only employee.
Even though Moe could have just been played off as a side character, Matt Groening made sure he had extremely deep and complex character development.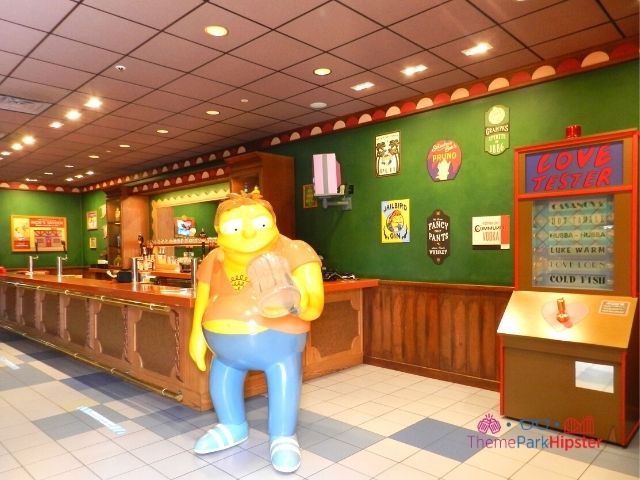 There are many variations of his origin. Some say he was an illegal migrant from Holland while others say she was born in Indiana. His accent is vaguely suggestive of Italian descent.
But one thing is for certain– this gruff despicable man with a violent temper and a penchant for smuggling wild animals is a riot.
He is always doing something so crazy and wrong that you just have to laugh. 
However, despite all his faults, he is, in fact, quite a kind and charitable soul deep down (really really deep down).
Moe's Tavern Menu at Universal Studios
Universal Studios has tried to stick as closely as possible to the tavern shown in the series, down to the Duff beer and its variations Moe sold in the series. 
Plus, there's a life-size replica of Moe's most loyal customer– Barney Gumble right when you walk into the tavern. 
The menu includes mostly beverages– both alcoholic and non-alcoholic. However, they do have snacks like beer nuts, chips and pretzels in packets.
The drink menu is detailed below in case you want a glimpse of what you are in for:
Flaming Moe
Made of orange soda with actual smoke coming out of it
Good news– you get to keep the glass as a souvenir
It is non-alcoholic
Duff Beer
American beer with roasted malt and hints of caramel
Available on tap
20 oz disposable cup but you can also get a souvenir cup
Only available at Universal Studios
Duff Lite
A smooth, golden pilsner if there ever was one
Available on tap
Duff Dry
Fruity, toasted dark ale
Only available in bottles
Buzz Cola
Cherry-flavored cola drink
Non-alcoholic
Shock Top
Belgian white ale with orange, lemon and coriander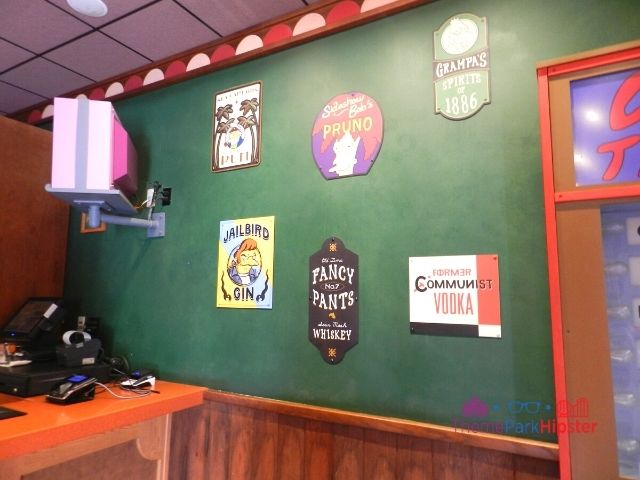 Coors Light
Light beer with traces of apples and bananas
Mixed Drinks
Basic and simple mixed drinks
Moe's Tavern is also connected to the Fast Food Boulevard in Simpsons Land where you can get food like Krusty burgers and curly fries that I am told taste heavenly.
What to Know Before You Go Moe's Tavern at Universal Studios
Now that we have the basics out-of-the-way, let's go through a few of the most common questions.
What bar is Moe's Tavern based on?
Moe's Tavern is based on the bar with the same name in the popular American animated TV series– The Simpsons.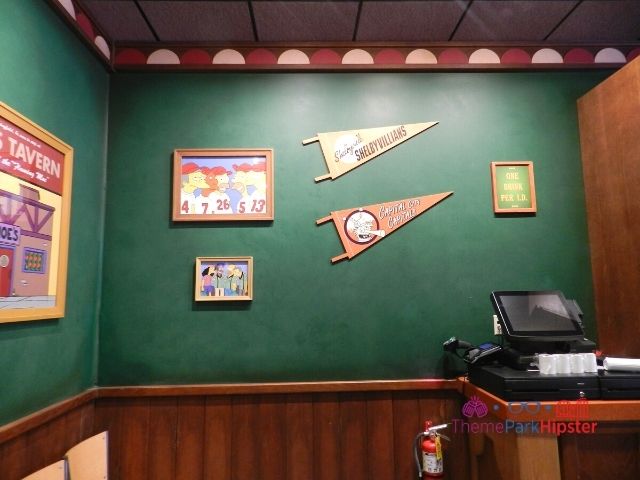 The owner of Moe's Tavern is (obviously Moe who is a grumpy man with a violent temper and a passion for smuggling wild animals 
What's in a Flaming Moe at Universal Studios Hollywood and Florida?
It's quite simple really. They put some dry ice at the bottom of the glass creating the smoke, and then fill it with orange soda.
Ta-da! One Flaming Moe coming up!
It's super simple but so cool to experience on your trip to Universal.
Recommended: Where to Stay in Orlando: Top 10 Hotels and Resorts for ALL Budgets
How much is a Flaming Moe at Universal Studios?
You'll be happy to know that one Flaming Moe was $8.99. Just remember that the prices are always changing at Universal Orlando Resort. 
What kind of beer is Duff at Universal Studios?
Duff beer is the classic American Pale Ale similar in taste to a Yuengling.
As the Simpsons were set in North-west USA, this beverage represented the usual palette of those who live there.
Is Duff Beer alcoholic?
Absolutely, Duff Beer is alcoholic and you have to be 21 years old at least to buy one. So don't forget your IDs.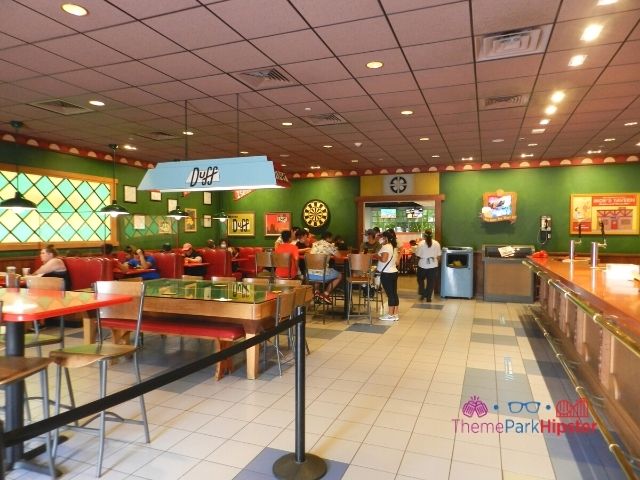 Is the Flaming Moe drink alcoholic?
Nope. it is just orange soda and can be consumed by anyone. The bonus is that you can take the glass it comes into your home as a souvenir.
Ready to plan your theme park trip? Watch the best vacation planning tips on YouTube. Get started here!
Facts you DID NOT KNOW about Moe and Moe's Tavern
In the Animated series, Moe actually serves the same beer under three different names– Duff beer, Duff Lite and Duff Dry. This is to be expected from a character like Moe. However, Universal Studios had to serve three different types of beer so it doesn't get sued.
In the series, Moe was actually raised in the Himalayas by his father. The real twist in this story is that his father is rumored to be a yeti. As the scriptwriters would imply, there was a 'Voodoo curse that made Moe's mother pregnant.
Before opening up a bar, Moe pursued a career in boxing. His name in the ring was Kid Moe. Eventually, he had to give up his boxing career after being knocked out of the ring over forty times (not that he will ever admit it).
Moe's first kiss was with (wait for it) the Comic Book Guy when he was ten years old! I know, I wasn't expecting that either. Sadly the writers did not delve into this anecdote too deeply. Moe has only dated women in his later years so this incident was really out of the blue.
Contrary to popular belief, Moe is not a grumpy bartender but is a shrewd entrepreneur. Moe's Tavern is not Moe's only source of income. Moe's has his own restaurant franchise with Moe's Bagels in Colorado and Moe's Express in the Springfield Central Mall.
Ready to start planning your next Universal Orlando vacation? Listen to the latest podcast episode on Apple or on your non-Apple device now!
The Love Tester at Moe's Tavern in Universal Studios
One of the attractions at Moe's Tavern is The Love Tester. In the series, Moe was offered a choice between cable TV and this machine.
Being a normal logical bartender with no nefarious tendencies at all (cough, cough) Moe chose the machine.
It is a coin-operated machine that tells you what kind of lover you are. The six categories include:
Casanova
Hot tamale
Hubba hubba
Lukewarm
Lovelorn
Goldfish
The machine is a staple in Moe's Tavern in the show and so it would be meaningless and disappointing not to have it in Moe's Tavern at Universal Studios.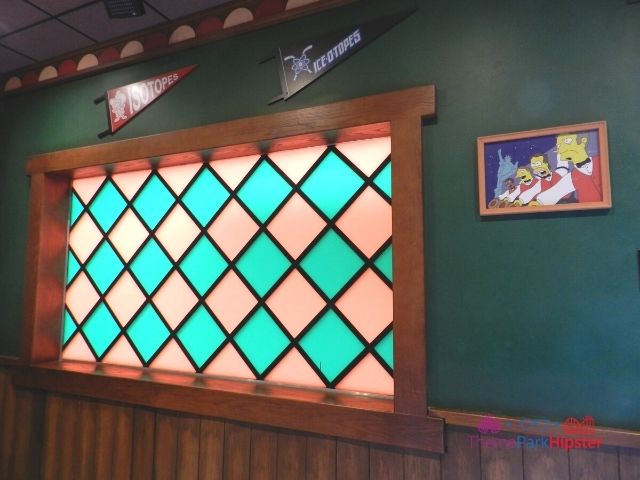 So of course, The Love Tester stands there in the corner next to Barney Gumble's life-size statue.
All you have to do is put your hand on the machine and it will tell you what kind of a lover you are.
Bonus fact– Moe actually took The Love tester on a date for the person he was seeing to try out. We still remain in the dark about which category Moe's date fell into.
My Final Thoughts on Moe's Tavern at Universal Studios
There you go– an entire guide to Moe's Tavern and How to enjoy it.
Make sure to order a Flaming Moe, reserve the pool table slash dining table if you are going there as a big group and don't forget to give The love Tester a shot.
Hope you have loads of fun in Moe's Tavern at Universal Studios.
Until next time, Happy Park Hopping Hipsters!
UP NEXT: Cletus' Chicken Shack at Universal Studios (Best Thing I Ever Ate)
(Original Article Date: December 31, 2020/Updated on July 10, 2023)