Are you ready to EAT the BIG Pink Simpsons donut at Universal Studios?
For a true Simpson's fan, the Big Pink is a thing of legend. It is the ambrosia of the gods and the apple of Eden. And yes, it is indeed Homer Simpson's favorite food item.
I'm going to dial the drama down (a little) for you non-Simpson-loving creatures.
The Big Pink (as you can probably tell by now) is the donut that features in the much-loved Simpson franchise. The protagonist of the series– Homer Simpson, loves them to the point of obsession. He even refuses to live in a world where donuts don't exist.
Yes, the Big Pink is that good.
Don't trust Homer's taste? You can go get yourself one at Springfield– the one that exists in the real world.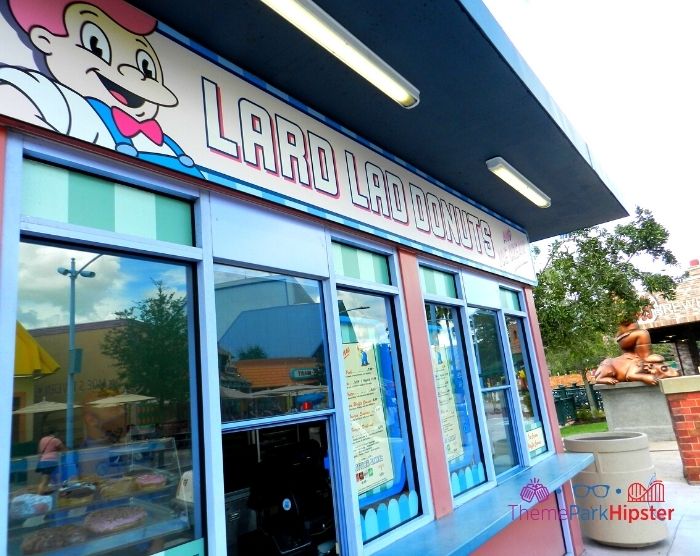 THIS POST MAY CONTAIN AFFILIATE LINKS. PLEASE READ MY DISCLOSURE FOR MORE INFO. Which means if you click on certain links, I may receive a small commission at no additional charge to you.
The Famous Simpsons Donut
This iconic donut exists on TV as a gigantic round piece of fried bread with rich pink icing and rainbow sprinkles. I can bet that every little yellow person who walks around on the screen ate one at some point in the show.
In fact, in The Simpsons: Tapped Out (the app) donuts were actually the currency of Springfield USA.
As amazing as that sounds, no one would be happier than Homer Simpson I can tell you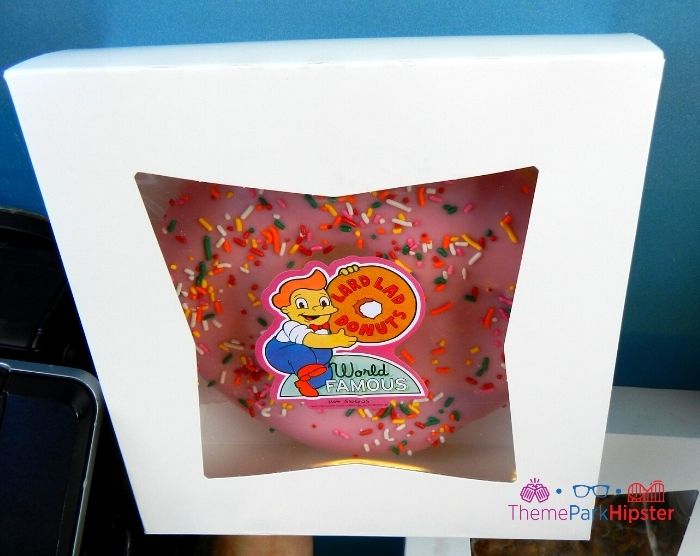 Universal Studios has brought the dysfunctional little town to life in its World Expo section. You can get a Flaming Moe at Moe's Tavern, a Krusty burger, and some Duff Beer if you're not underage.
But more importantly, you can get a donut the size of your face!
The real Simpsons fans are jumping out of their seats and doing the Samba right now. But if you're rear is still firmly stuck to the chair, let me explain what the big deal is.
ORDER NOW to secure your Orlando theme park ticket reservation in the parks! GET MY TICKETS.
Backstory of the Simpsons Donut
The Simpsons are one of the longest-running animated movie-slash-TV-series franchises in America. It has been playing out since 1989 and has over 500 episodes and 27 seasons. At this point, it should just be included in history textbooks under the culture section.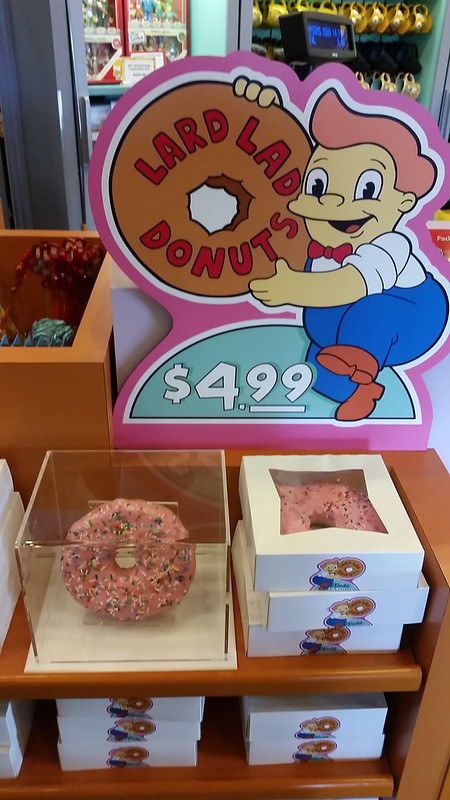 For the poor souls who haven't watched it yet, The Simpsons is about (obviously) the Simpson family consisting of Homer and Marge Simpson and their three children– Bart, Lisa, and Maggie. They are the definition of dysfunctional.
They are constantly get on each others' nerves but somehow manage to stick it out together.
Oh and did I mention, they are absolutely hilarious.
We have already established that donuts are a huge part of this family's life. But I think to truly understand it, I have to show you a few excerpts from the series.
The Simpsons are an exaggerated version of the classic American working-class family.
Can you think of one thing they would really really like to have more of? If you guessed money, you are RIGHT!
Homer Simpson once actually had the chance to travel to the past and change things for his family.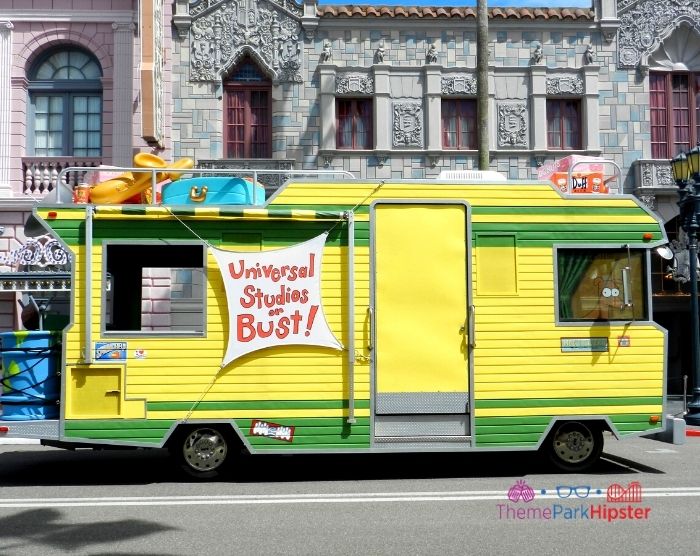 When he returned to the present, the Simpsons were rich and happy. But everything changes when he asks Marge for a donut and she has NO clue what it is.
Being the sensible, family-oriented person he is, Homer Simpson immediately travels back in time to undo the good things he did.
I guess some things are more important than family. Namely, donuts.
But his family's happiness is not all Homer has sacrificed for donuts. In one episode, Homer actually sells his eternal soul for a donut. Thankfully, Marge is able to win it back later. But it just goes to show the lengths he will go to for donuts.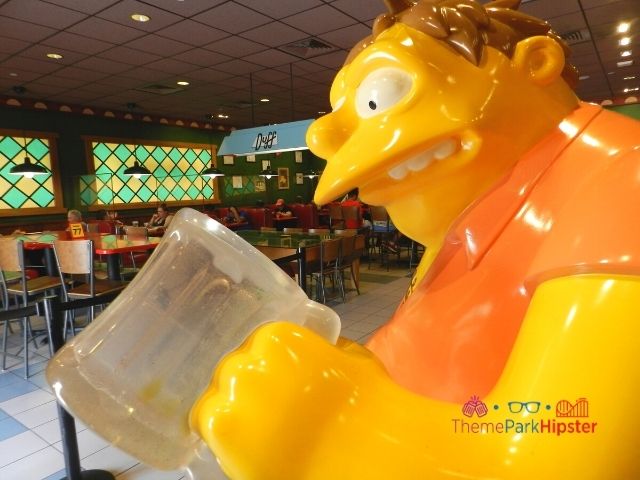 To really drive the point home, I need to mention again that donuts were once the currency of Springfield in the app The Simpsons: Tapped Out.
Donuts are really that important in Matt Groening's world.
As a tribute to their importance, Universal Studios has included a crashed police car right outside the donut shop. Rumor has it that Chief Clancy Wiggum got distracted by the donuts while driving and crashed into a fire hydrant.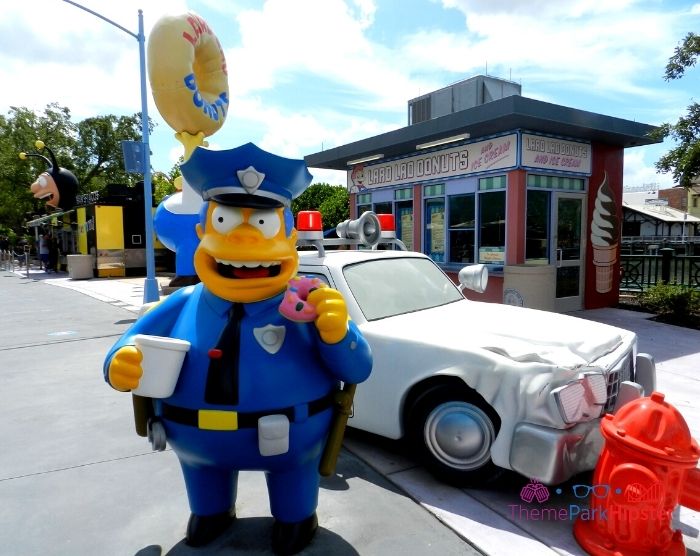 It is still spewing water everywhere to this day– make sure you avoid that when you go visit Springfield USA.
Where to Find the Simpsons Donut in Universal Studios
Now that you have a basic grasp on why the Big Pink donut is such a big deal. Let me show you where you can find it because I know you're craving donuts right now.
(Seriously, I had to go get myself a donut while writing this. I guess if you say 'donut' enough times, you get hungry.)
The 'real' Springfield USA is located in the World Expo section of Universal Studios in Orlando, Florida.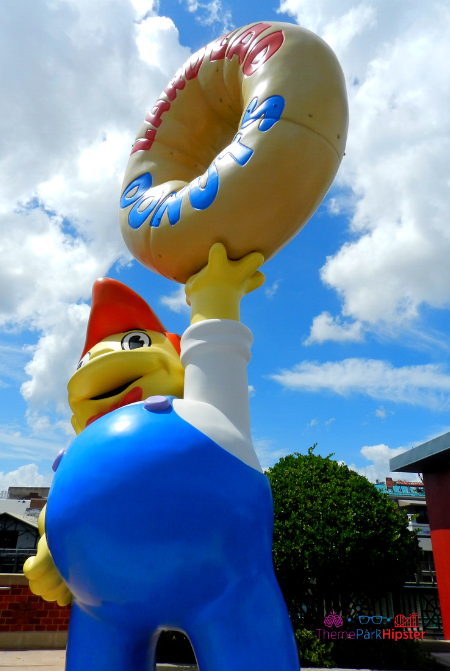 It has all the iconic Simpsons buildings like Moe's Tavern, Krusty Burger, and even Bumblebee Man's Taco Truck. You can walk down Fast Food Blvd and look at Krusty the Clown's big head towering over you.
But what you should be really looking for is Lard Lad Donuts.
That's where you can get the Big Pink donut. But if you're not sure you can handle that much food (and the sugar rush after it), just ask for a smaller size. They may not do them on screen but they do in real life.
Read: Why You HAVE to Try Universal Orlando Food Mobile Ordering
What to Know Before You Go Simpsons Land at Universal Studios
Let's go through a few commonly asked questions before you make your way out to Universal Studios to experience the giant pink donut.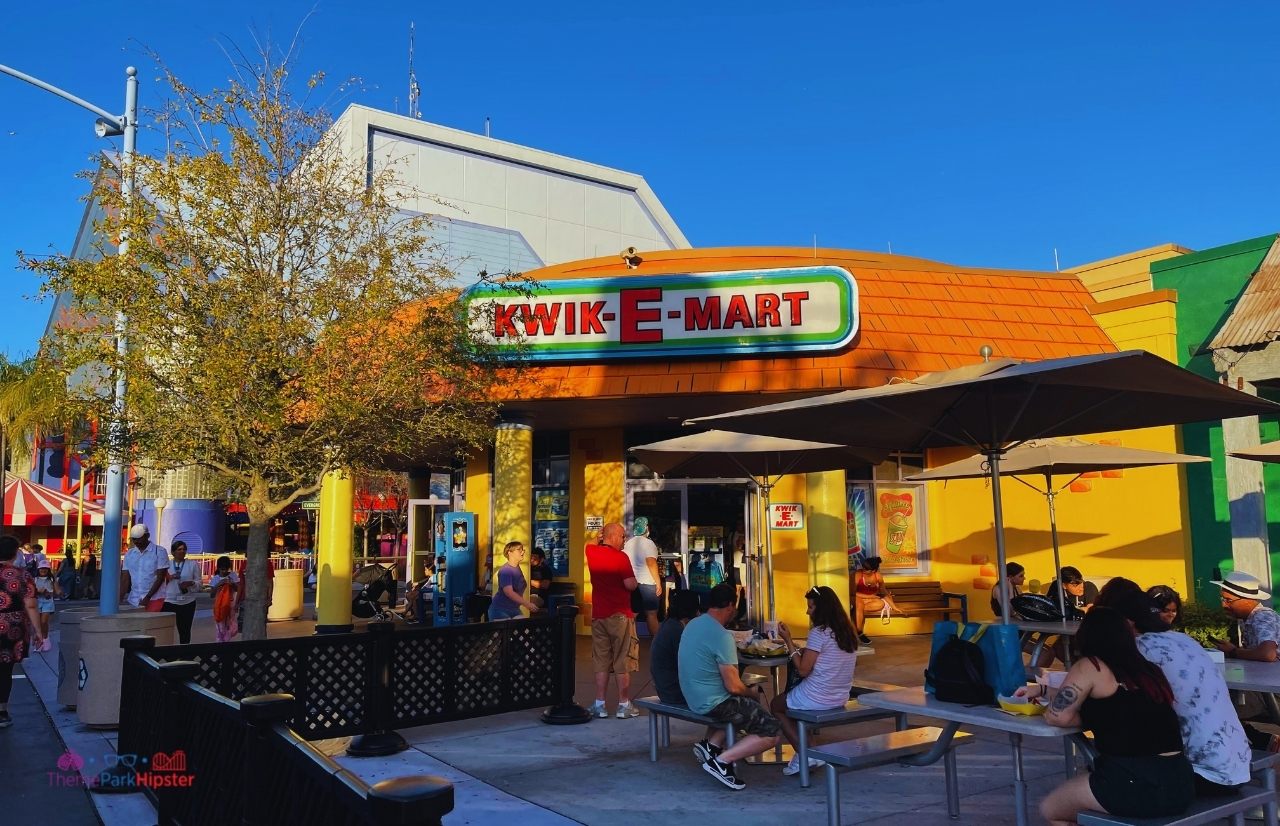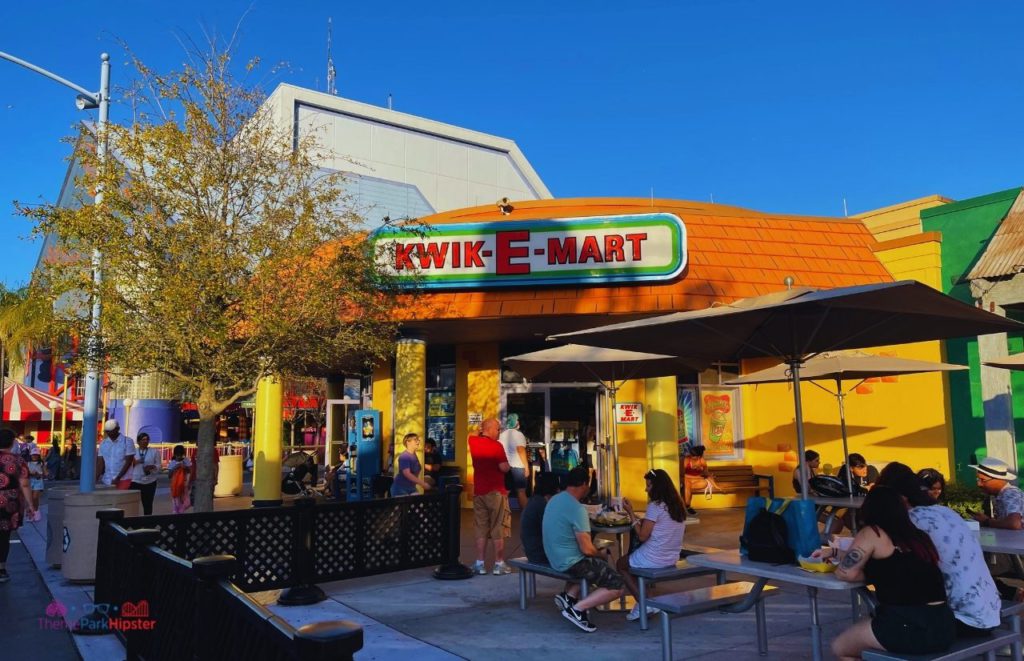 How much is the big pink donut at Universal Studios?
The Big Pink costs a humble $7.99. You must be thinking that's a pretty good deal. But let me give you a little tip– you can get a better deal for just a dollar less.
I'm talking about Brain Freezin D'oh nut Sundae. It comes with a scoop of ice cream on top (hence the 'brain freeze') and your very own choice of topping.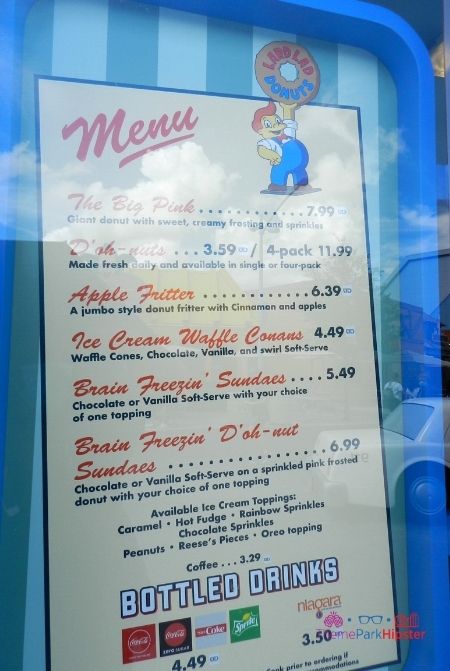 My mouth is literally watering right now just thinking of it. But be warned, both those things are pretty big and filling. You may have no room left for any other meals that day.
You can also get the small D'oh nuts for $3.59. However, do keep in mind that the prices are subject to change at anytime.
Recommended: Cletus' Chicken Shack at Universal Studios (Best Thing I Ever Ate)
How big is the Lard Lad Donut at Universal Studios?
If you have ever been to Springfield USA or even seen pictures of it, you may have noticed The Simpsons are 'larger than life' characters (both on and off-screen). The Big Pink Simpsons donut has been made to fit into those huge hands.
That means it is roughly about the size of your whole face, but I would say it's bigger.
However, the other Lard Lad Donuts are made for human consumption and are normal-sized. Honestly though, because I have an overactive sweet tooth, I would go with The Big Pink. You only eat a donut that big once right?
Ready to plan your theme park trip? Watch the best vacation planning tips on YouTube. Get started here!
What is the Homer Simpson donut?
The Homer Simpson donut is a gigantic donut with creamy pink frosting and rainbow sprinkles. It is the iconic cake seen throughout the award-winning franchise The Simpsons.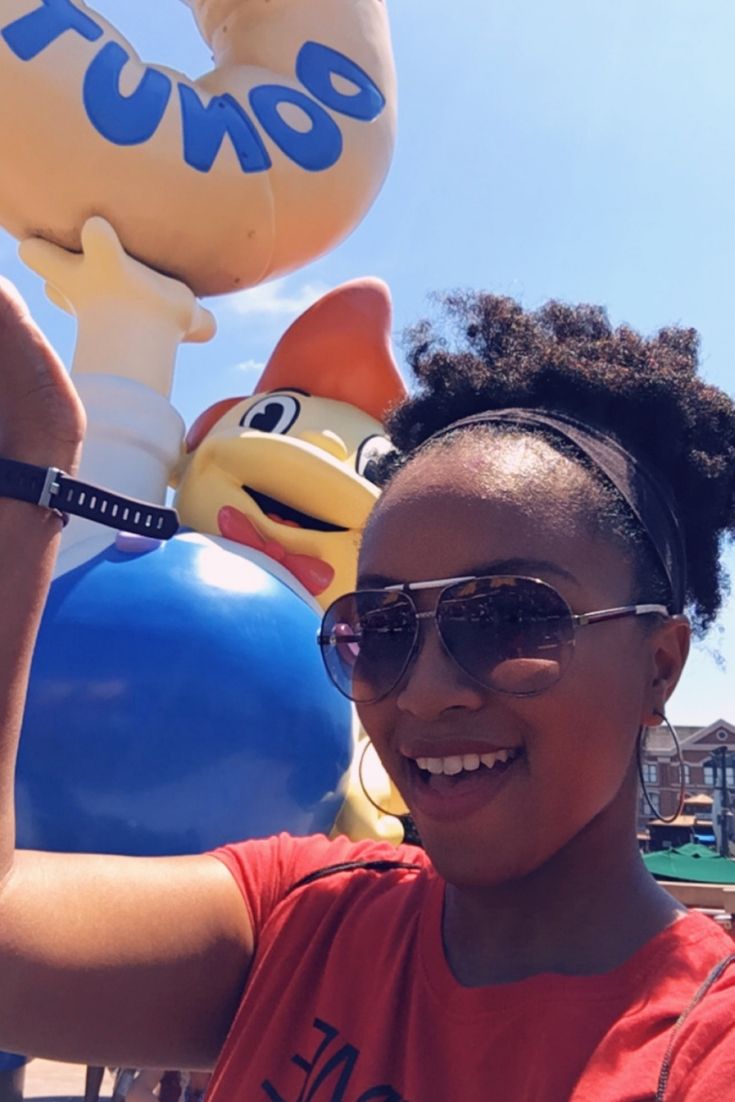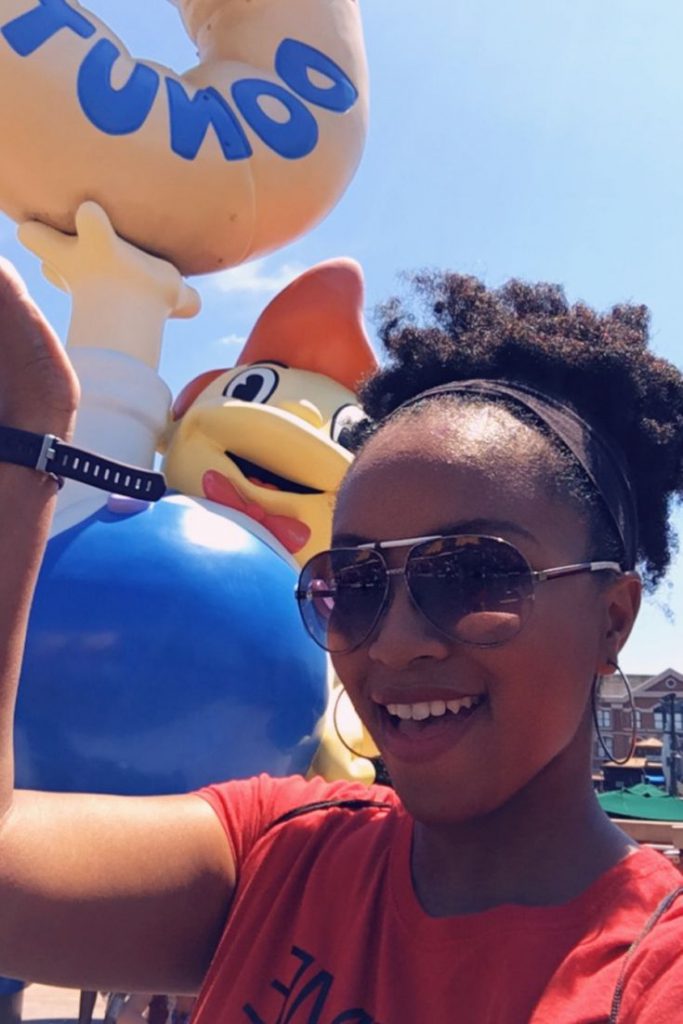 At Springfield U.S.A. at Universal Studios, they actually serve this donut at Lard Lad. It goes by the name of The Big Pink. That's because it's a huge pink donut exactly as shown in the movie– only it's almost as big as your screen.
How much are the other items on the menu at Lard Lad Donuts?
Lard Lad offers a variety of donuts (or as they call it D'oh nuts). The prices of which vary as well. However, the biggest donut that we've mentioned (which is about the size of your face) costs $7.99. It's an iconic part of The Simpsons franchise.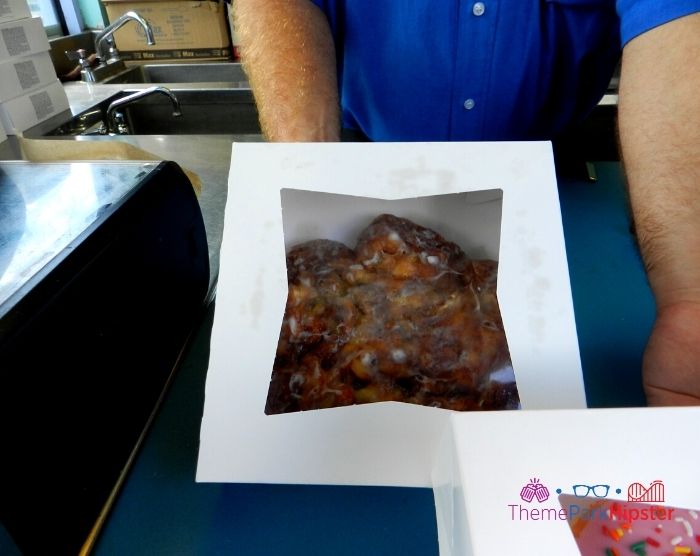 You can get it with a scoop of ice cream and your choice of toppings for $6.99 and call it the Brain Freezin D'oh nut. 
If you don't have a very demanding sweet tooth like I do, you could go with the smaller D'oh nuts that cost $3.99. Lard Lad Donuts proudly claims that these are 'made fresh daily'.
You can also get a four-pack of D'oh nuts for $11.99. But let's be honest you coil adjust get The Big Pink– I'm sure it equals up to four donuts and is half the price!
*Please note that prices are subject to change at anytime.
Get up to 25% off of your Universal Studios Tickets with Groupon TODAY!
Are donuts fried in lard?
Yes, some donuts are usually fried in lard. This is because unlike canola oil or other vegetable oil, lard gives donuts a rich sweet flavor. It also makes them softer and more melt-in-your-mouth.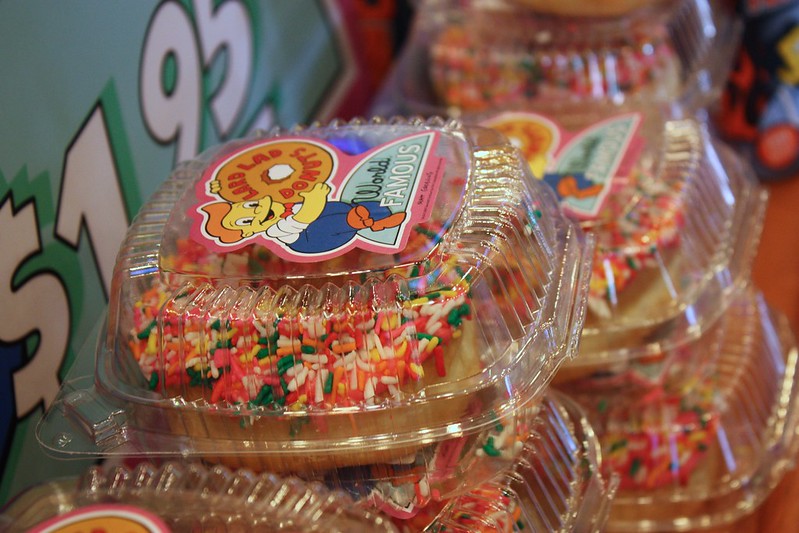 And for all the vegans and vegetarians praying the lard is not what they think it is, I'm sorry to let you down.
Lard is pork fat. I'm sorry.
However, there are people on the internet who claim that despite its name, Lard Lad Donuts does not use lard to fry their donuts.
But I would say it would be best if you checked in with the people serving the donuts before buying them (if you're vegan or vegetarian).
Read: Universal Orlando Tickets Discount (How to Get a Free Day at Universal Studios)
And that my friends, is all about the Big Pink Simpsons Donut.
Even if you don't have a sweet tooth, I would recommend getting a small donut to try because it is an integral part of The Simpsons.
I would even go as far as to say that if you don't have a donut at Fast Food Blvd, you haven't really visited Springfield.
Trust me, Homer would only agree. So now tell me: Are you hungry or WHAT? Would you eat this Simpsons donut?
Until next time, Happy Park Hopping Hipsters!
UP NEXT: Moe's Tavern at Universal Studios: MADE FOR SIMPSON FANS
(Original Article Date: March 11, 2021/Updated on June 6, 2022)