You know it and I am sure you love it! It's the Disney Monorail. This marvel can be found at several Disney Parks, and some consider it to be an attraction in itself.
The monorail's connection to Disney Parks is pretty special and fascinating to learn about. Unlike its Disney World counterpart, you don't necessarily need it to get around Disneyland Resort. But you could be treated to some fun experiences and amazing views.
The Disneyland Monorail is unique in which its great for all ages, perfectly ADA accessible and truly a credit to Walt and his people at Walt Disney Imagineering.
You can the variety of monorail skins, but let's get into the business of what makes it so special and how you can use it for your upcoming Disneyland Resort visit!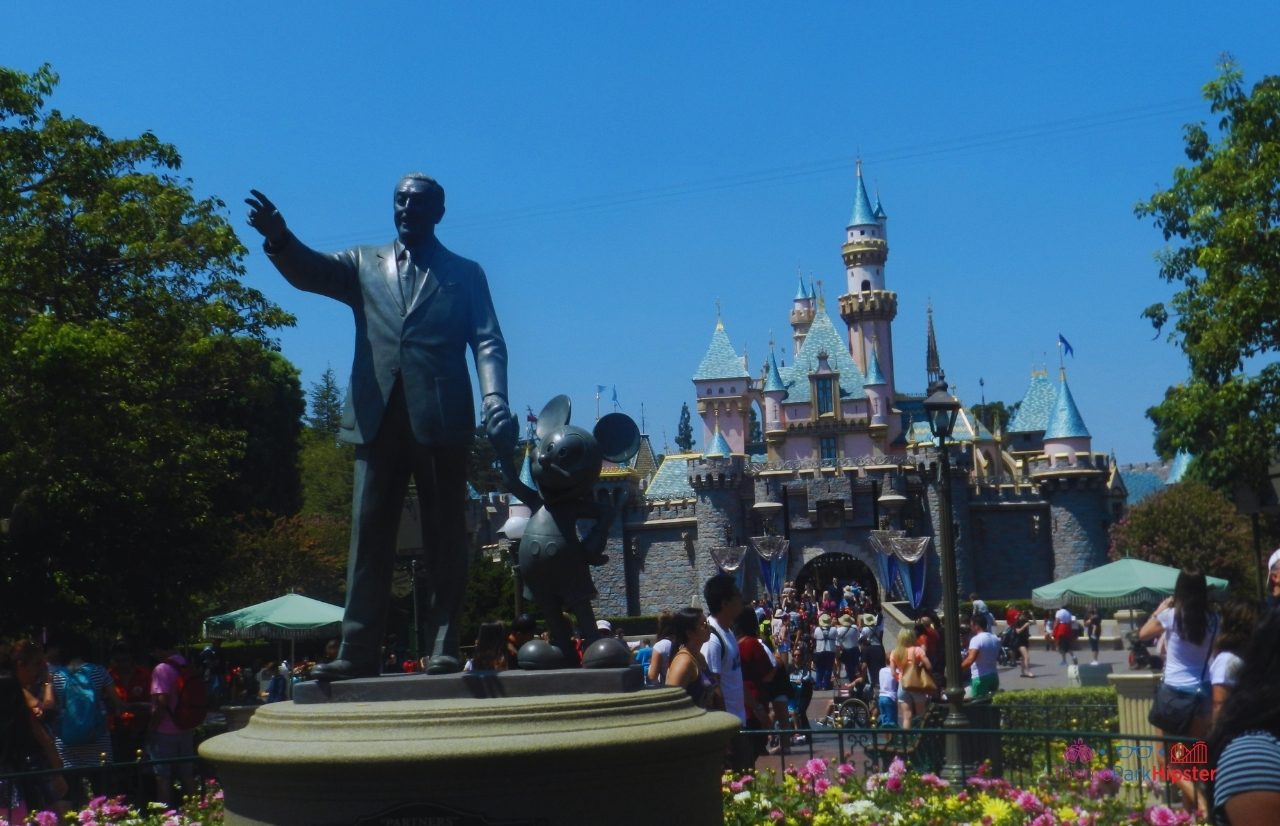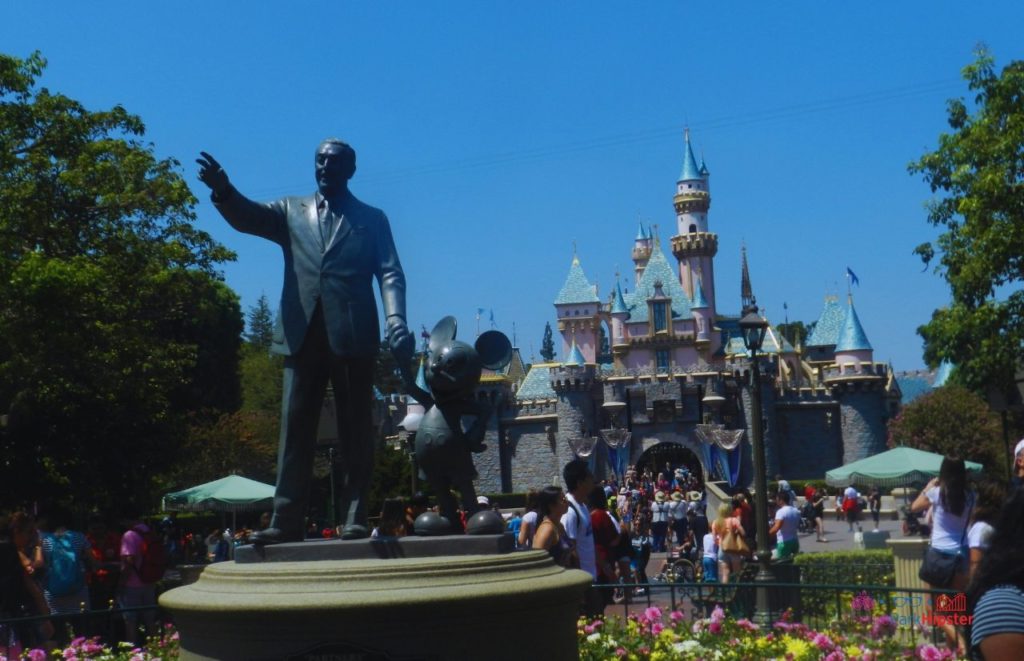 THIS POST MAY CONTAIN AFFILIATE LINKS. PLEASE READ MY DISCLOSURE FOR MORE INFO. Which means if you click on certain links, I may receive a small commission at no additional charge to you.
Today I will touch base on:
The History
How to Use the Disneyland Monorail
Disneyland Monorail Stops
Top Tips for Riding the Disney Monorail
Brief History of the Disneyland Monorail
Walt had an idea, as he always did, to create a useful mode of public transportation that would innovate the future. He was inspired by the idea during a family visit to Germany. He saw the vehicle and immediately began working with the company, ALWEG, to develop and bring a version to Disneyland.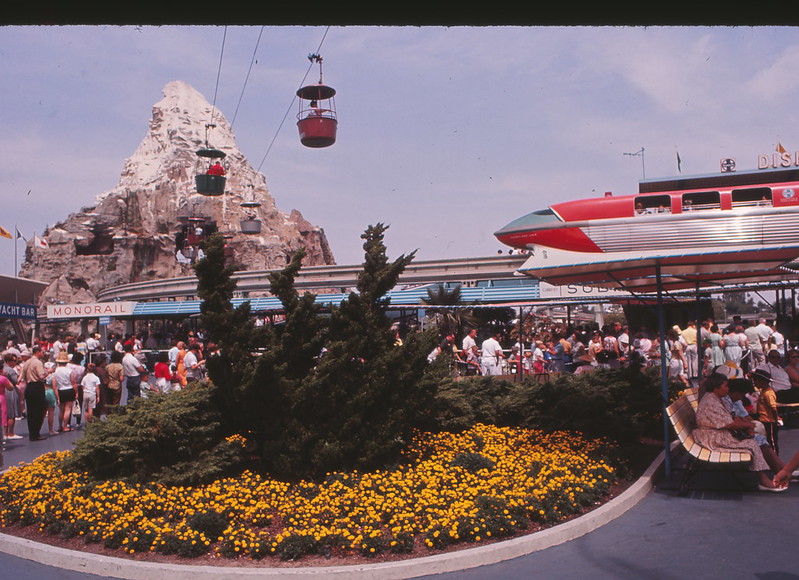 Thus WDI (Walt Disney Imagineering) and ALWEG thrust into the world, the Disneyland Monorail which would be associated with the Disney Parks for years to come. On a sunny and warm June 14, 1959, about 4 years after Disneyland's opening, the Mark I monorail was introduced as an attraction located in Tomorrowland.
It became the very first operating Monorail system in the United States. It was such an important addition in not just Disneyland, but American history.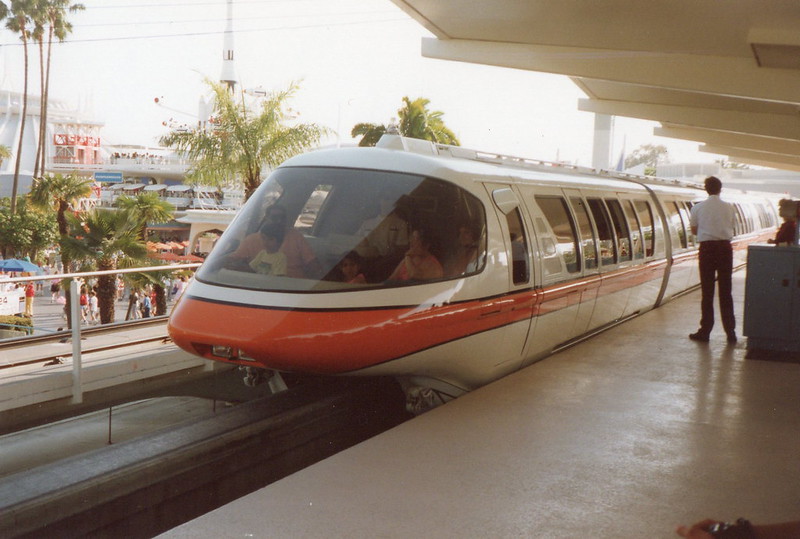 In fact, Richard Nixon, who was Vice President at the time, was the guest speaker for the dedication ceremony. The Nixon family helped Walt cut the ribbon as well.
First Designs
The original version consisted of two different trains, red and blue, think original Pokemon game colors. Each had 3 cars.
Obviously, this is no longer the case as several versions of the Monorail and more stations have been added over the years, solidifying it as a true mode of transportation. In fact, when you land or depart from Orlando International Airport, you are usually riding the monorail to get to your gate.
As of today, the Disneyland Monorail is on its 7th version. It soars gracefully over different areas in Fantasyland and Tomorrowland, while giving you jaw dropping views of Disney California Adventure.
It boasts a total of 2.5 miles of track which takes approximately 13 minutes to complete roundtrip.
Disneyland Monorail Stops
There are two Disneyland monorail stops that you can choose to board while visiting the resort:
The Downtown Disney Station: this is between the Disneyland Hotel and the entrance to the Downtown Disney District
Tomorrowland Station: this is located above Finding Nemo Submarine Voyage
Get Your Discounted Disneyland Tickets here!
How to ride the Disneyland Monorail?
Riding the monorail is fairly easy! While it doesn't cost anything to board the Disneyland Monorail, because it's considered an attraction, you do need a valid Disneyland admission ticket or Annual Pass.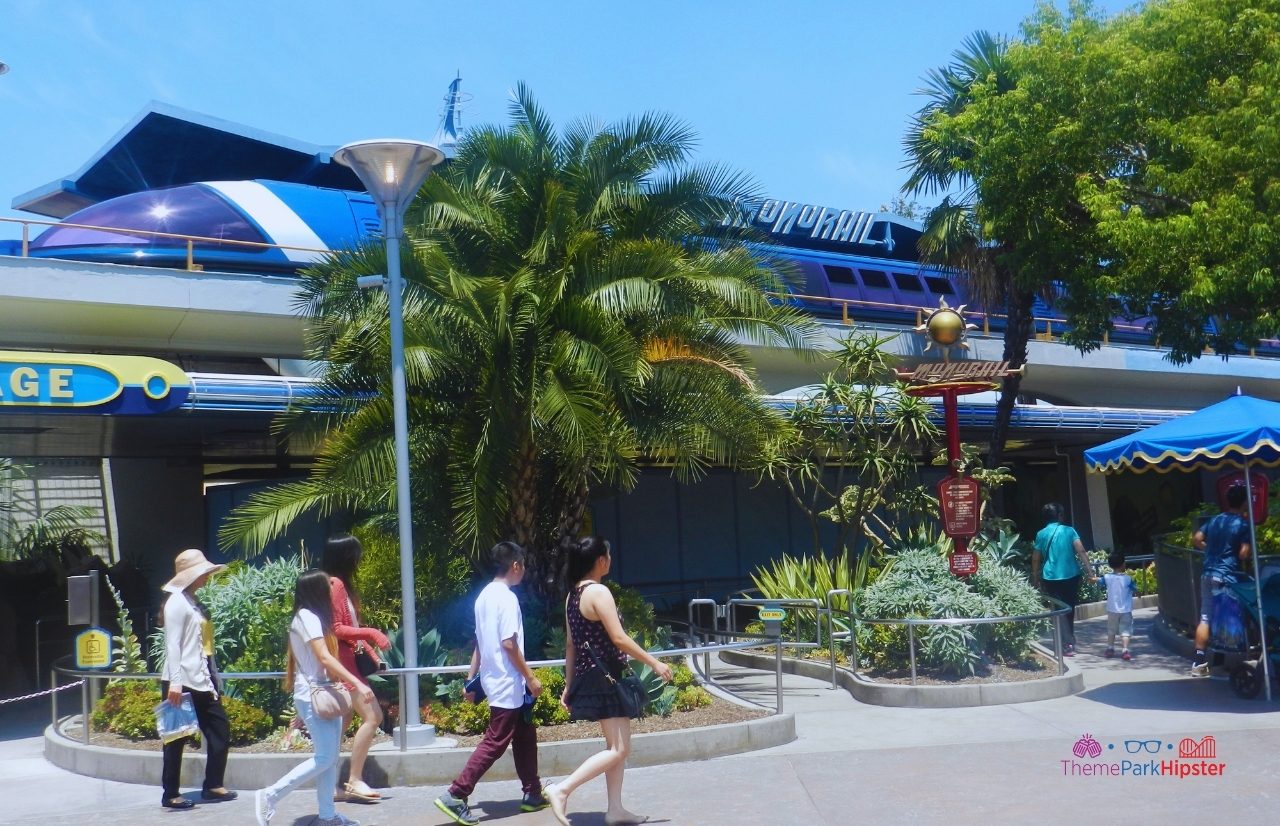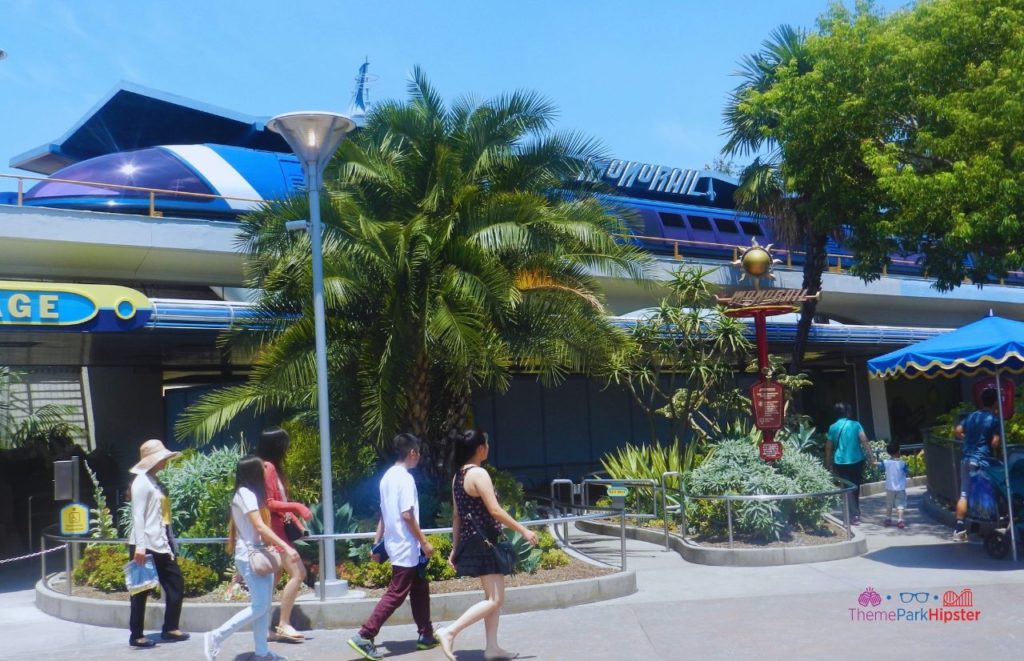 This means that they will check prior to boarding at the Downtown Disney District station.
Once you have gone past security checkpoint and have provided your valid admission ticket, you are free to board the Disneyland Monorail.
A Cast Member will assist you in filling in all trains and finding a place to board. Once you find a seat, you can enjoy a scenic ride to the next stop, in this case, being Tomorrowland.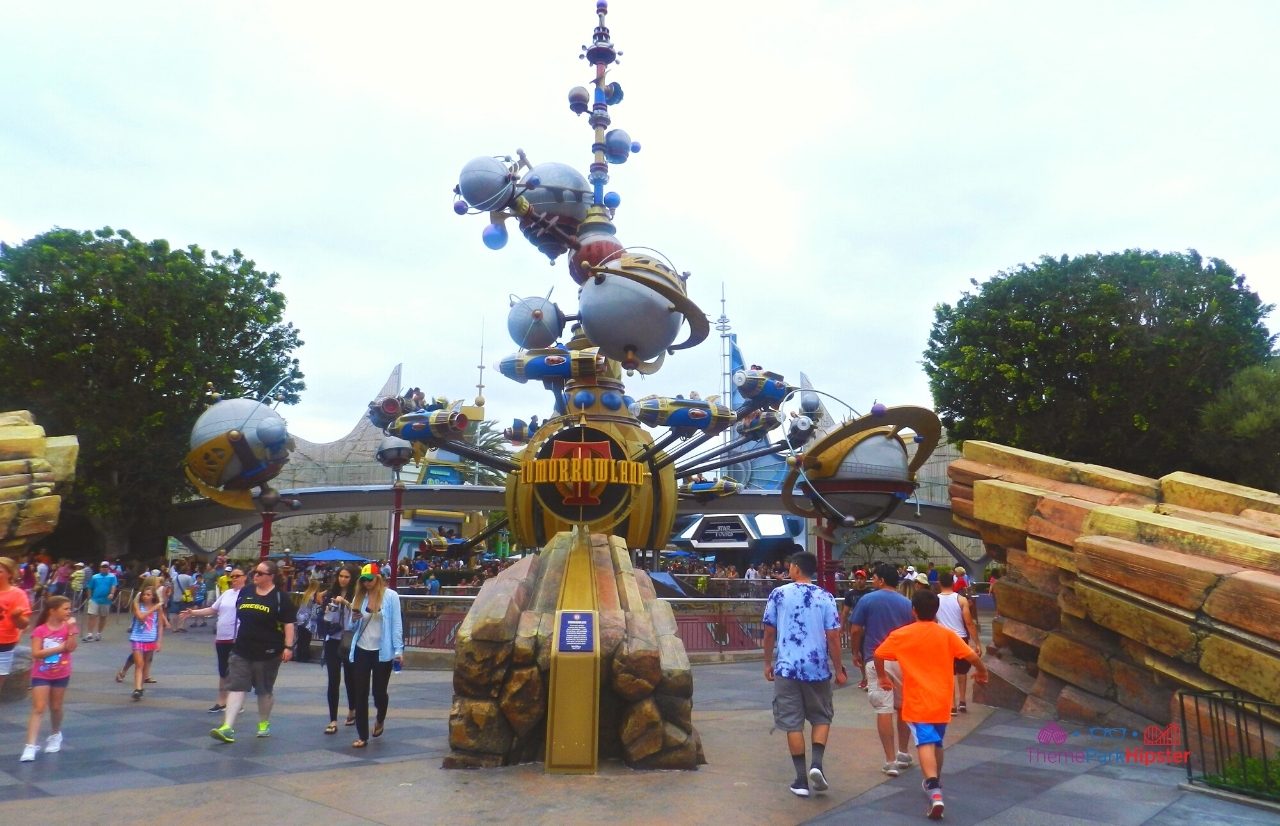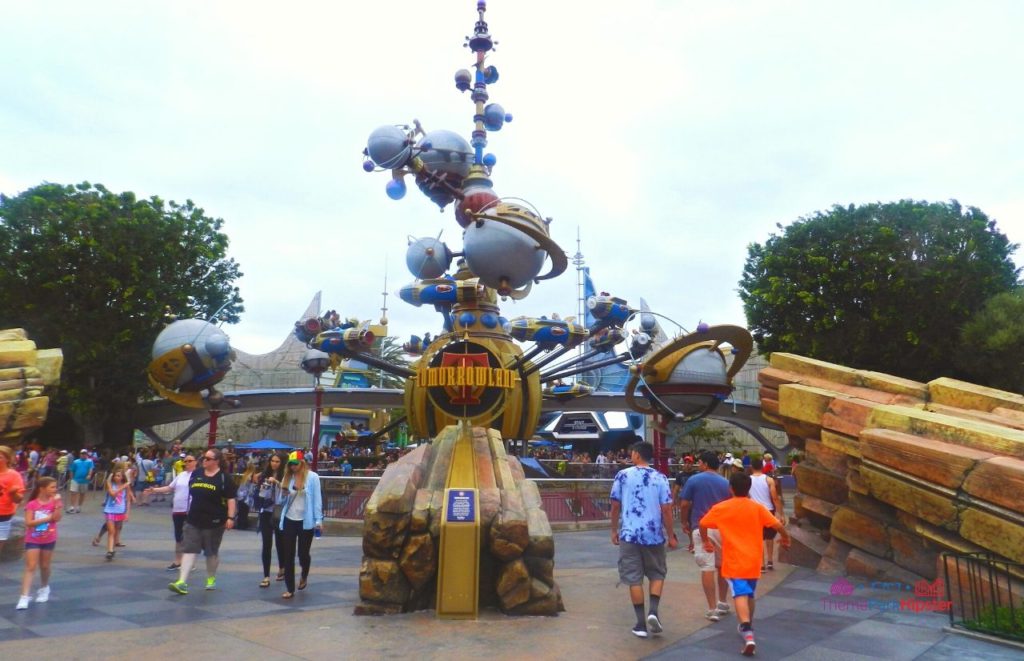 Now if you are boarding in Tomorrowland, you won't have to worry about showing a valid admission ticket or annual pass since you are already inside the Disneyland Theme Park.
NOTE: Between February 14-March 6, 2022, the Disneyland Monorail will be closed for refurbishment and unavailable.
What to Know Before You Go
Now that you understand the basics about the Disneyland Monorail system, let's go through a few of the most commonly asked questions.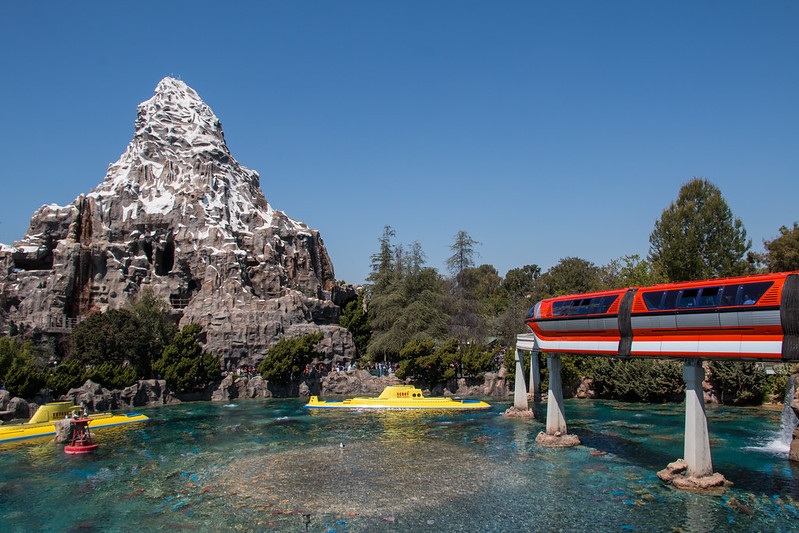 Are Strollers/Wheelchairs allowed onboard?
Yes! Your strollers must be folded prior to boarding the Disneyland Monorail.
Any Guests using wheelchairs will be assisted into the car with a ramp and there is no need to transfer to a seat. You will just drive up the ramp into the car and park. Upon disembarking, you will have to back up off the ramp in order to get off the monorail.
How often does the Disneyland Monorail run?
With three trains, you could expect to see a monorail at the station every 10 minutes or so. As mentioned before, a full roundtrip ride takes about 13 minutes to complete.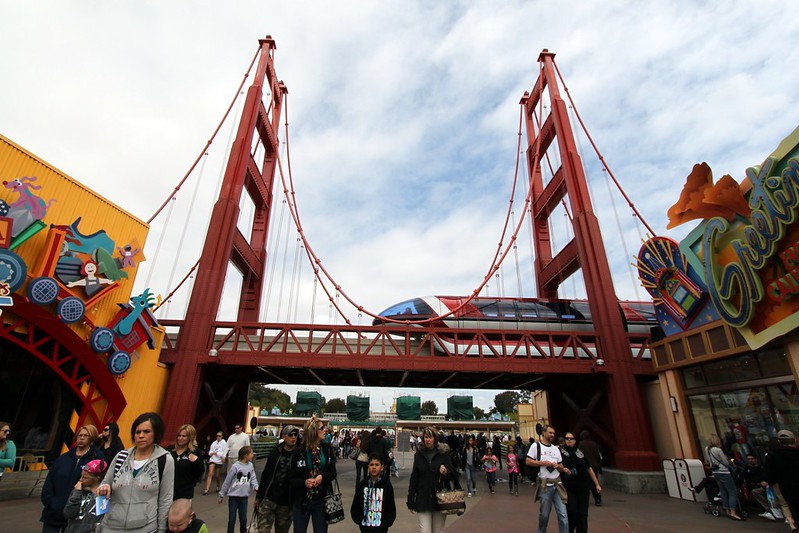 What are the Disneyland Monorail's Hours?
As of the creation of this post, current hours for the Disneyland Monorail are from 8 a.m. to 7 p.m. PST. Sometimes, it does stop temporarily when the fireworks show at Disneyland is running.
Is there an age or height requirement for the Disney monorail?
The Disneyland Monorail is available for all ages and height ranges to ride.
Is the Disneyland Monorail Safe for the environment?
According to Disneyland.com. the Disneyland Monorail utilizes a 600-volt DC power source and so it emits no pollutants or direct exhaust into the atmosphere.
6 Pro Tips for Using the Disneyland Monorail
While you can't do this at Walt Disney World, you are able to ask a Cast Member if you can ride in the very front. I have personally been able to experience this twice on the Disneyland Monorail and you get extra special views!
Use the Disneyland Monorail to get to Downtown Disney faster during lunch time. Sometimes, Downtown Disney District is a far quieter place to enjoy a peaceful meal amidst the hustle and bustle of Disneyland crowds.
If you plan to ride for a roundtrip journey, avoid doing this 2 hours before its scheduled to close. This is when it's the busiest usually.
If you love the Disneyland Monorail, you can bring it home with you! Well, sort of! Some stores at Disneyland and Downtown Disney sell Disneyland Monorail Playsets. It can be bought on Shopdisney.com too. It is functional and comes with 8 miniature characters, five monorail cars and 14 feet of track for it to drive on.
When riding the monorail, the spiel will give you valuable information about sights, shows, fireworks, parades, park hours and times for these events.
The Disneyland Monorail changes theme! Sometimes its Pixar or a Disney character! you never know what theme monorail you'll be riding on, which adds to the fun!
Get Your Discounted Disneyland Tickets here!
Time to Depart!
Please remain seated until the monorail comes to a complete stop! Then collect your belongings, watch your head and step carefully from the train.
But before you depart from this article, let's recap briefly!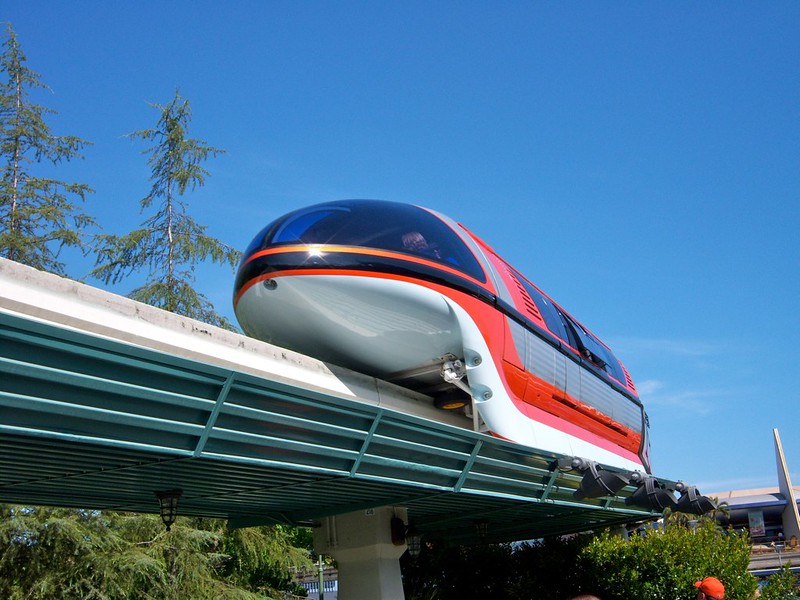 We learned quite a bit about the inspiration of how the Disneyland monorail came to be and its impact on not just Disney Parks but the United States. We discussed its two Disneyland monorail stops and what is needed to board, not to mention what you can see along the scenic and historic trip around the resort.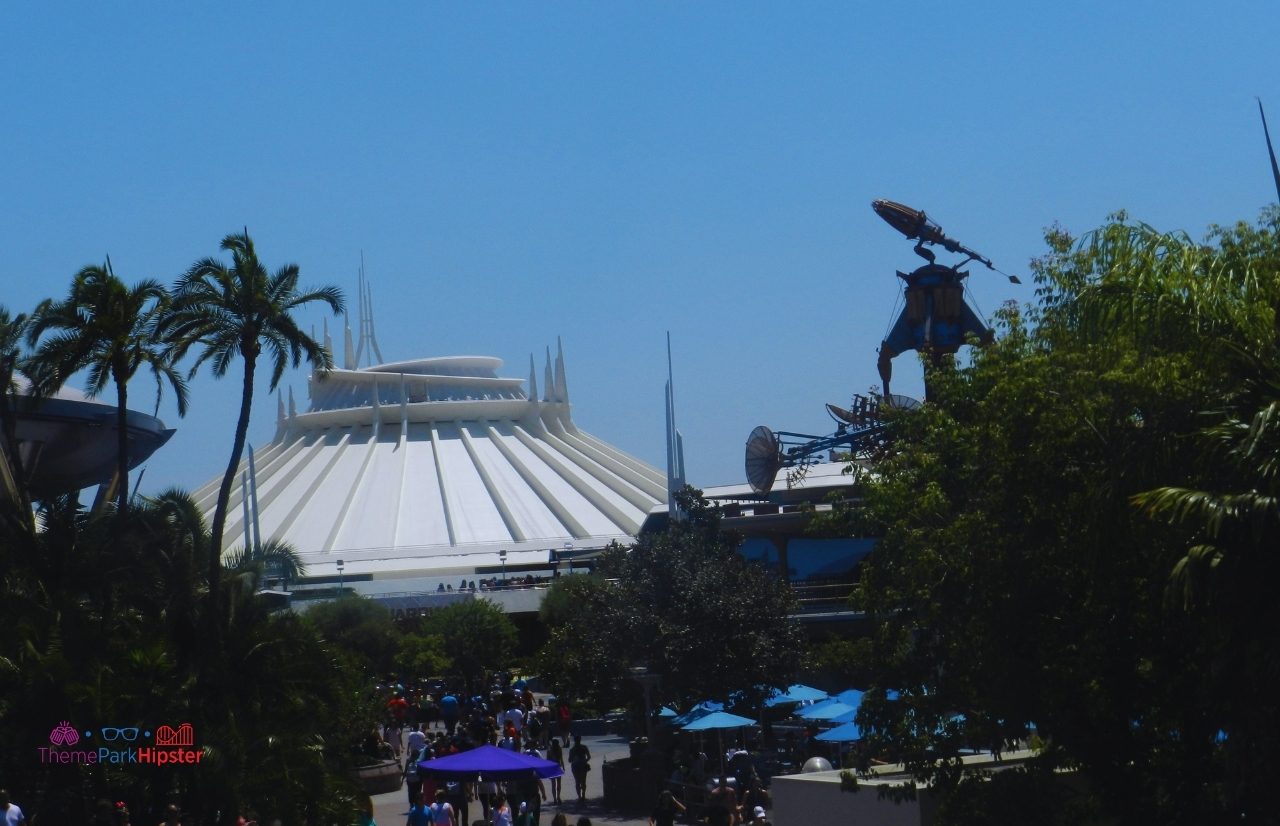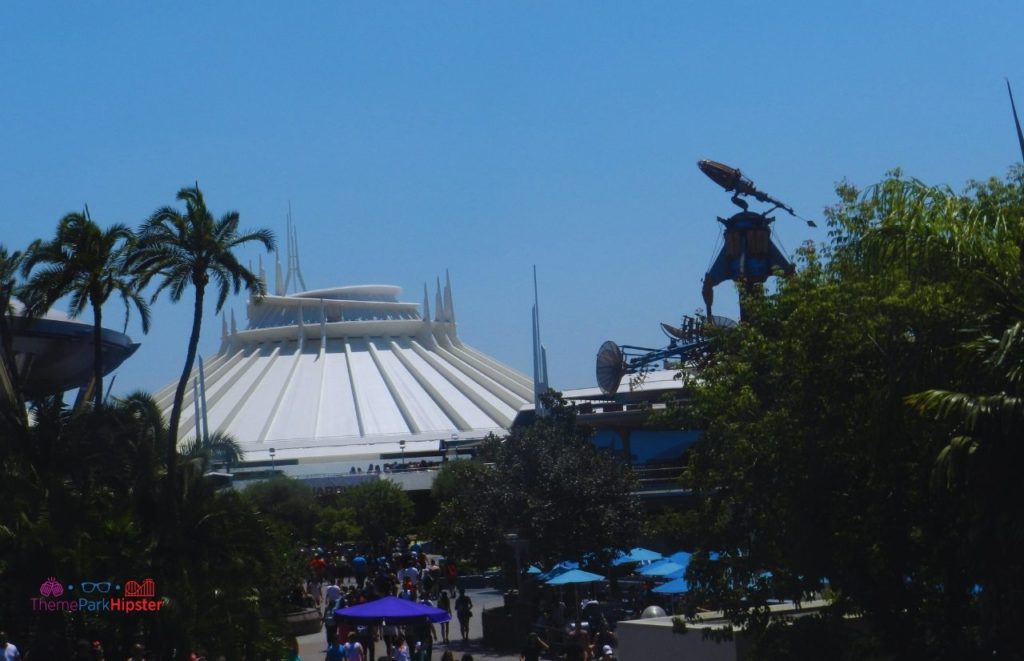 As a reminder, if you will be on property between Valentine's Day, Feb 14-March 6th, the Disneyland Monorail will be temporarily unavailable. Otherwise, you can always check the Disneyland app or site for the monorail's current operating hours.
And we can check off the tips and FAQ (frequently asked questions) portion, so let's move on to the final part of our Monorail spiel!
On behalf of all our crew, thanks for traveling with us, and we hope you have a happy and memorable visit here at Disneyland! This is the Theme Park Hipster station!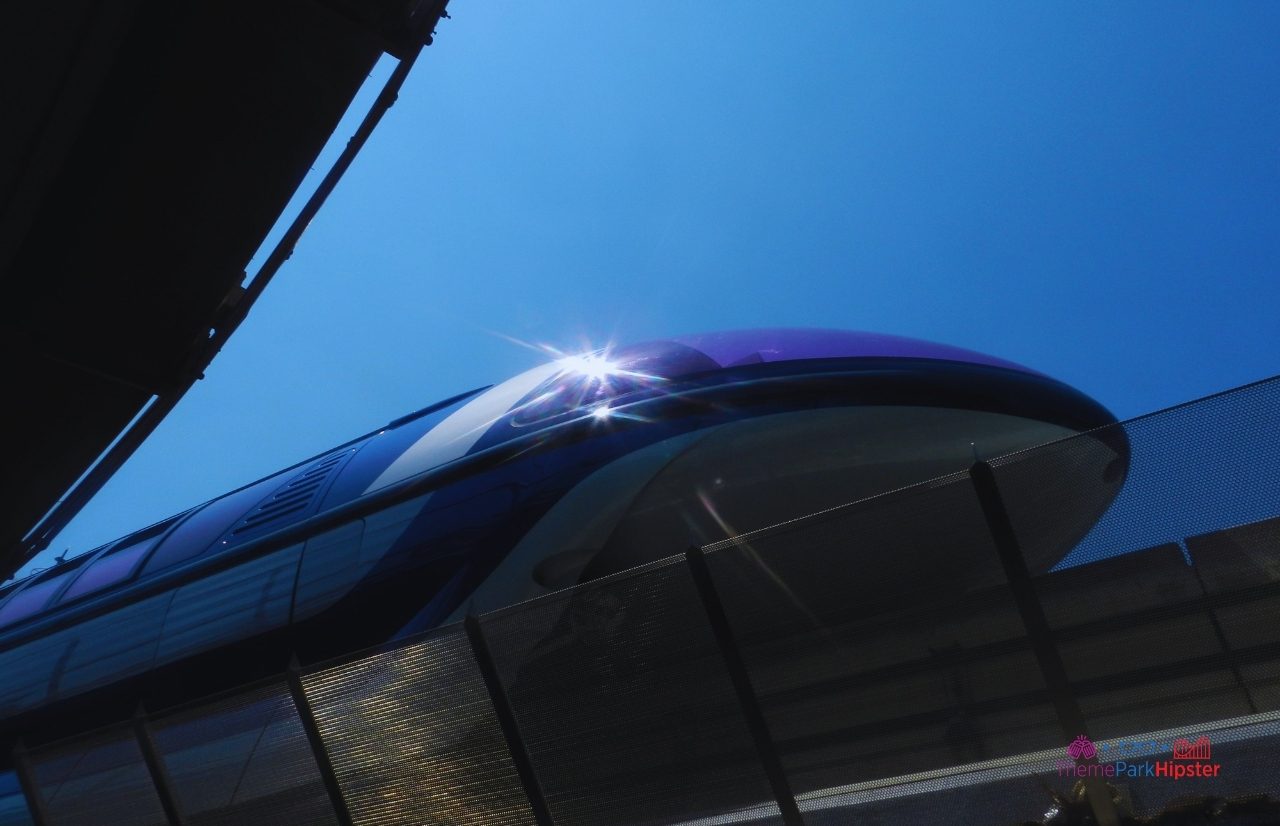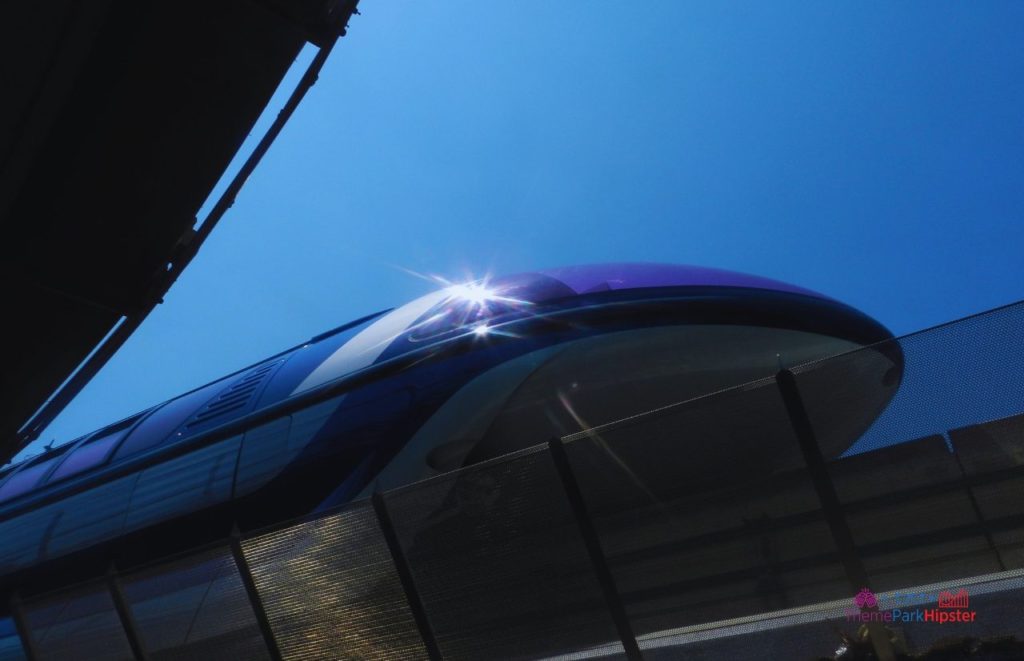 Is riding the monorail a must do when you visit Disneyland Resort? Share with us in our new Facebook Group!
Until next time, Happy Park Hopping Hipsters!
About the Author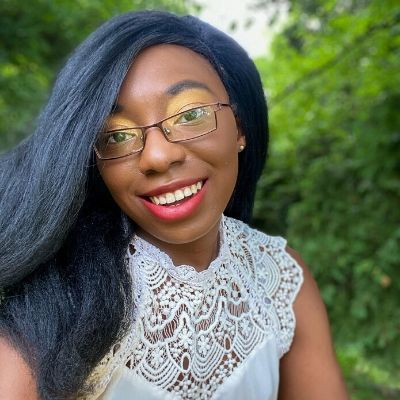 About the Author
Victoria is a professional solo traveler here to make your solo trips as stress free AND enjoyable as possible for you.
She has over 5 years of Disney and Non-Disney travel experience and was featured by POPSUGAR as one of the Top 50 Black Disney Creators you should follow.
She is a Proud Native to Baltimore, Md but always will call Disney World home. You can find her at Disney Tea with V.