Are you looking for the ultimate survivor's guide to Halloween at Knott's Scary Farm?
If you are like me, originally, you had no clue that Knott's had a haunt event, let alone that it was easily one of the top 5 haunt events in the entire country.
Knott's Berry Farm, located in Buena Park and only 10 minutes from Disneyland Resort, has the longest running theme park haunt in SOCAL. It's in the 49th year from its 1973 debut.
The houses along with their stories and details are truly a crown jewel for the haunt and should been more widely recognized in my opinion.
Do keep in mind that I only did three houses because I went alone…silly i know!
Nonetheless, I'm thrilled to share with you everything there is to know about this ghastly event.
THIS POST MAY CONTAIN AFFILIATE LINKS. PLEASE READ MY DISCLOSURE FOR MORE INFO. Which means if you click on certain links, I may receive a small commission at no additional charge to you.
What is Knott's Scary Farm?
Knott's Scary Farm is Southern California's take on the Halloween season. What allows Knott's Scary Farm to stand apart from other haunts is that its scare zones takeover the whole park!
There generally is no safe place and most of the scare zones are spread out.
This means that the actors can come at you through the fog, easily sneak up on you or even tag team you to give you a double scare. I witnessed a couple get a triple scare while in Ghost Town.
Keep this is mind as I'm sure they will come out with something spectacular for the event's 50th anniversary in 2023.
Save $31 on your Knott's Berry Farm Theme Park Ticket TODAY!
When does Knott's Scary Farm start?
California's Knott's Scary Farm is a specially ticketed event that tends to sell out its popular dates fast.
Below are the dates for the 2022 season and as I always say, the closer to Halloween, the higher the price.
In particular, I chose a Sunday to attend as I find with haunt events, these are the easiest days to manage. In this case, Thursday might be a great option as well.
Knott's Berry Farm Halloween Dates for September 2022:
Thursday, 22nd
Friday, 23rd
Saturday, 24th
Sunday, 25th
Thursday, 29th
Friday, 30th
Knott's Berry Farm Halloween Dates for October 2022:
Saturday, 1st
Sunday, 2nd
Thursday, 6th
Friday, 7th
Saturday, 8th
Sunday, 9th
Thursday, 13th
Friday, 14th
Saturday, 15th
Sunday, 16th
Wednesday, 19th
Thursday, 20th
Friday, 21st
Saturday, 22nd
Sunday, 23rd
Thursday, 27th
Friday, 28th
Saturday, 29th
Sunday, 30th
Monday, 31st (Halloween)
What time does Knott's Scary Farm start?
Knott's Scary Farm runs from 7 p.m. to 1 a.m. on Thursdays and Sundays and from 7 p.m. to 2 a.m. on Fridays and Saturdays.
Knott's Berry Farm Halloween Tickets, Tours and Prices
With an event of this caliber, you would be surprised to learn how fairly affordable it is and the options they have available for guests.
Admission should be bought as early in advance as possible and will vary in price based on the date you plan on attending.
While there are fees and taxes on top of the Knott's Scary Farm ticket price, you can get a discount if you are a:
Season Passholder
Military (whether that be active, inactive or retired with your ID)
As a Cedar Fair Platinum Passholder, which allows you to go to any Cedar Fair theme park, I paid $65.99 for my Knott's Scary Farm ticket.
You can save up to $10 off the admission price as a Passholder. The Military discounted prices start at $54 and can go up to $95.
How much does it cost to go to Knott's Scary Farm?
General Admission tickets to Knott's Scary Farm start at $59 and can cost up to $99.
Fright and Fast Lane Upgrade
You may want to consider Fright and Fast Lane for the event, which allows you unlimited priority access to the mazes and priority boarding on the attractions running that evening for the event.
The Knott's Scary Farm Fright and Fast Lane start at $135 and go as high as $199.
Boo-Fet Upgrade
Another add on to consider, which came highly recommended by a friend who was able to do it, is the Boo-Fet + Early Entry deal.
The Boo-fet gives you a buffet spread of food which is served at 5 p.m. and gives you early access to haunted mazes such as:
Bloodline 1942
Wax Works
The Depths
Dark Entities
You'll also get some awesome photo-ops with a few of the Knott's Berry Farm monsters.
Save up to 87% off exploring the attractions in Anaheim with Groupon TODAY!
How much is the Boo-Fet at Knott's Scary Farm?
The cost for the Boo-Fet ranges from $45-$49 and does not include your Knott's Scary Farm ticket.
Hipster Power Tip: Get to check in as early as possible and don't forget that it comes with a souvenir bottle to take with you.
Knott's Scary Farm Halloween Tours
One would also consider doing one or both of the Knott's Scary Farm tours, The Very Important Monster Tour and Scary Farm Beyond the Fog Tour.
The Very Important Monster Tour
This is brand new and includes a private tour guide for up to 6 hours and your park admission, general parking, the Boo-Fet dinner and a Knott's Scary Farm t-shirt.
You will get priority access to rides and shows too. Something to note is that is that you have to book a minimum of 2 guests per tour.
How much is The Very Important Monster Tour at Knott's Scary Farm?
The cost ranges from $549 to $625 depending on the date. However, as of this post, only October 28th is available for $625.
This means you'll be paying about $1,250 not including taxes and fees. Once booked, you will be contacted to schedule a time.
Ready to plan your theme park trip? Watch the best vacation planning tips on YouTube. Get started here!
Scary Farm Beyond the Fog Tour
Then there is the cheaper option called the Scary Farm Beyond the Fog Tour.
At $79.99, and running during the park's normal operating hours, the three-hour tour takes you on a journey to learn about the history of Knott's Scary Farm and get a chance to walk through the mazes with the lights on.
You will be given a Knott's Scary Farm pin, lanyard and light refreshments.
Scary Farm Beyond the Fog Tour times range between 10 a.m. and 1:30 p.m. and you can choose your tour date and time at time of purchase. As of this post, tours are fully available for all dates.
How much is park at Knott's Berry Farm?
If you plan on driving to Knott's Berry Farm, parking can be purchased in advance for $30 online.
Get Your Discounted Disneyland Tickets here!
What is Included at Knott's Scary Farm?
Now that you know what Knott's Scary Farm, how much it costs, and the upgrades, let's get down to the nitty gritty and start with the mazes.
Knott's Scary Farm Houses 2022
The haunted houses at Knott's Scary Farm are incredible and you'll see why below!
1. Wax Works
The Wax Works takes you through a wax museum where you will encounter Dr. Augustus Scratch.
Dr. Scratch is a disfigured artist who might be behind the mysterious screams coming from the back room as victims are drowned in a boiling cauldron of wax.
Scare Rating 7/10
2. The Grimoire (New)
This haunted house follows a series of dark tales weaved together with amazing sets and phenomenal special effects!
You begin your journey following a group of teens around a campfire, reading from an evil ancient book, which unleashes the demonic entities.
You then go through the excursion of those before them who read from the book and the consequences.
This house was so amazingly crafted and detailed, truly my favorite of the night!
Scare Rating: 9/10
3. Pumpkin Eater
This house draws inspiration from the classic nursery rhyme and a classic maze that dates back to 2017.
We follow a man who finds out his wife is cheating on him and responds by destroying her and placing her body parts in a pumpkin!
But now you are on his list and you have to escape his wrath through a hauntingly silent town. You then enter a huge pumpkin, brushing against the disgusting guts, bugs and more!
Scare Rating 8/10
4. Bloodline 1842 (New)
This is Knott's Scary Farm largest maze to date! It's also unique because it is interactive!
You will be put in the middle of a vampire war and hunting with the day-breakers, armed with Bellatorian weapons.
After that, you can choose the clan and weapon setting as you go through the maze too, which are Dead Eye, Spray Shot and Rage Runner.
It is a fascinating concept that I felt needed a bit of fine tuning. Good news is that there was a bunch of vampires and townspeople to guide you.
Scare Rating 6/10
5. Dark Ride: Castle of Chaos
This is home to a bunch of forsaken sideshow freaks and performers kicked out of other carnival shows in an abandoned carnival ride!
The Dark Ride house actually caught me by surprise because everything is not what they seem!
Scare Rating 7/10
6. Mesmer: Sideshow of the Mind
This is a return from last year and has come back to reach into the depths of your mind and take control.
It's really cool to go through the maze due to its crazy sets! Like the sets move in some scenes and there was even a moving walkway which shook me!
Each room shows off a hypnotized victim as you hear Mesmer's echoing voice throughout.
Scare Rating 8/10
7. Dark Entities
This is another returning house for its 4th year!
It's a house on the science fiction. It very much so gives "Alien" franchise.
The dark entities in question are looking for a new host and the more they find, the more powerful they become.
There was a lot of sensory and I did find myself a bit overwhelmed at some points but overall, I thought it was just okay.
Scare Rating 5/10
8. Origins: The Curse of Calico
This is another returning maze which debuted in 2019. I personally was a big fan of it due to the way it immersed aspects of Knott's Berry Farm folklore.
It follows a witch that was hunted down and hung to death. As she is about to be hung, she curses the town and disappears!
This is where we all go into the story as we watch the dark forces take over the Town of Calico. The Origins maze was filled with insane special effects that made me want to go through again!
Scare Rating 7/10
9. The Depths
This is the last returning maze on this year's list and it takes place in an abandoned village that has underground caves nearby where a mining crew has gone missing!
This is due to the fact that mysterious creatures that live in them.
This maze had some fascinating effects that reminded me of Dead Man's Pier: Winter Wake from Halloween Horror Nights Orlando.
Scare Rating 6/10
Knott's So Scary Farm Scare Zones 2022
As I mentioned before, the scare zones are spread out throughout the park so nowhere is really safe, especially in the fog.
The creatures can range from sneakily coming up on you and growling or they will come at you hard and fast!
Knott's Scary Farm scare zones here are truly unmatched to their haunt events!
Here are the five Halloween Scare Zones at Knott's Berry Farm:
Gore-ing 20s: This zone was actually really fun and not terribly scary! They have live musicians and performers in the zone that makes it very lively! It is filled with otherworldly gangsters, flappers and more!
The Hollow: This is the last year for this particular scare zone so make sure you don't miss out on this! This is connected to the Pumpkin eater maze slightly as witches call upon their army of the dead to wage war against a witch hunter. The pumpkin eater does in fact roam the fog filled streets!
Ghost Town Streets: This is the ONE! This is the zone that brings people back year after year. You will not be safe in this zone and the actors in this zone are the absolute best! The ghosts of this town are out and about.
CarnEVIL: As I'm sure you can tell from the name, the freaks do in fact come out at night in this scare zone.
Forsaken Lake: This was by far my favorite, which might shock those who love the Ghost Town scare zone. It is eerie and gives off 1800s Victorian gothic vibes mixed with watery doom. It is the music that really sold me! I could legit stay there all night!
Entertainment and Shows at Knott's Scary Farm
I was pleasantly surprised with the entertainment offerings! They definitely offer some sort of relief from the scares and are certainly unique!
Into the Fog: A Scary Farm Tribute Art Show
This show allows fans of the event to visit the factory store and check out artwork from various artists all over the country that are specially dedicated to the Scary Farm.
The store also sells some event merchandise, which we will look at briefly in this guide.
Conjurers: Dark Magic
This is exactly what it says in the title! A magic show located in the birdcage theater with a Calico theme!
I personally enjoyed the show, and it was a nice reprieve from the scare zones and haunted mazes.
Puppet Up!- Uncensored
This was a show that upon first glance, I didn't exactly know what to make of it. But man, I do not regret seeing it at all!
It's an adult improv puppet show where the audience gives the puppeteers suggestions that they have to act out on the spot.
This made the show end up with such hilarious and wacky results!
Carnival Du Grotesque
This offers circus type performers that showcase their talents and skills with extreme stunts!
You can find them on the Calico Mine Stage, and they are very mesmerizing, I must say!
What rides are open at Knott's Scary Farm?
Unless it is on the attractions refurbishment list, most of the rides will be open for the event and will have Fast Lane available.
These are the following rides open at Knott's Scary Farm for Halloween:
Jaguar
Coast Rider
Ghost Rider
Calico River Rapids
The Calico Mine Ride
Wave Swinger
Pony Express
Silver Bullet
Supreme Scream
Sierra Sidewinder
Sol Spin
La Revolucion
Knott's Bear-y Tales: Return to the fair
Timber Mountain Log Ride: Halloween Hootenanny
Knott's Scary Farm Food and Drinks
There is a great selection of food, treats and beverages!
What I didn't know until I was chatting with a Team Member is that all the scary farm offerings, except the tamales, are available during the day!
Best Halloween Food and Knott's Scary Farm
Chicken and Spicy Sausage Gumbo with Frog Legs
Frighten Philly Cheese Tater Tots
Spooky Crabby Sushi Roll
Jack-O-Lantern Cheesecakes
Perilous Pumpkin Cheesecake Funnel Cake
Spider's Strawberry Milkshake
You can take a look at the full menu here. I was very fond of the Crabby Sushi Roll and the Jack-O-Lantern Cheesecakes!
Knott's Scary Farm Halloween Merchandise
When it comes to the event merchandise, you can find the standard apparel, drinkware, posters and more!
You can also find art pieces and other amazing items too that are limited edition including merchandise for "The Hollow" as it is in it's last year as a scare zone.
Save up to 65% off exploring the attractions in Los Angeles with Groupon TODAY!
7 Beginner Tips For Knott's Scary Farm
Now that you have all the basics down for Knott's Scary Farm, let's go through a few of the best tips for your trip!
1. Download Map PDF in Advance
If I may be frank, the map in the Knott's Berry Farm app is garbage!
It isn't very easy to follow and so this tip came from a Team Member and that was to download the PDF of the Knott's Scary Farm map in advance.
The map is more detailed than the app's version. I have taken the liberty of leaving it here for you!
2. Consider Attending on Halloween
As crazy as it sounds, in my research, I have discovered that you can actually get most of the tickets, tours and more for a decent price on that night!
3. Go Cashless
Knott's Berry Farm is now a cashless park meaning they only take credit and debit cards or Samsung, apple or google pay. Cash is no longer accepted.
4. Get Fright Lane and Buy Tickets Online
Buying your Knott's Scary Farm ticket online can save you between $40-$50 at the gate and actually guarantees that you can get in before tickets for your particular date sells out.
If you are determined to do every house, then you have to invest in the Fright Lane pass.
5. No Re-entry
Once you leave the event, you cannot come back in so make sure you have everything you need.
6. Know the Bag Policy
Guests may not bring bags larger than 6.5" x 4.5" x 2" of any kind, including purses, backpacks, or diaper bags, into the park during Knott's Scary Farm. 
Also, all bags will be subject to search.
Ready to plan your theme park trip? Watch the best vacation planning tips on YouTube. Get started here!
7. Get Familiar with the Chaperone Policy
Effective September 29, 2022, any chaperone who accompanies a total of five minors, all with valid paid admission for that evening's event, will be given one (1) complimentary chaperone admission to use for that event night only.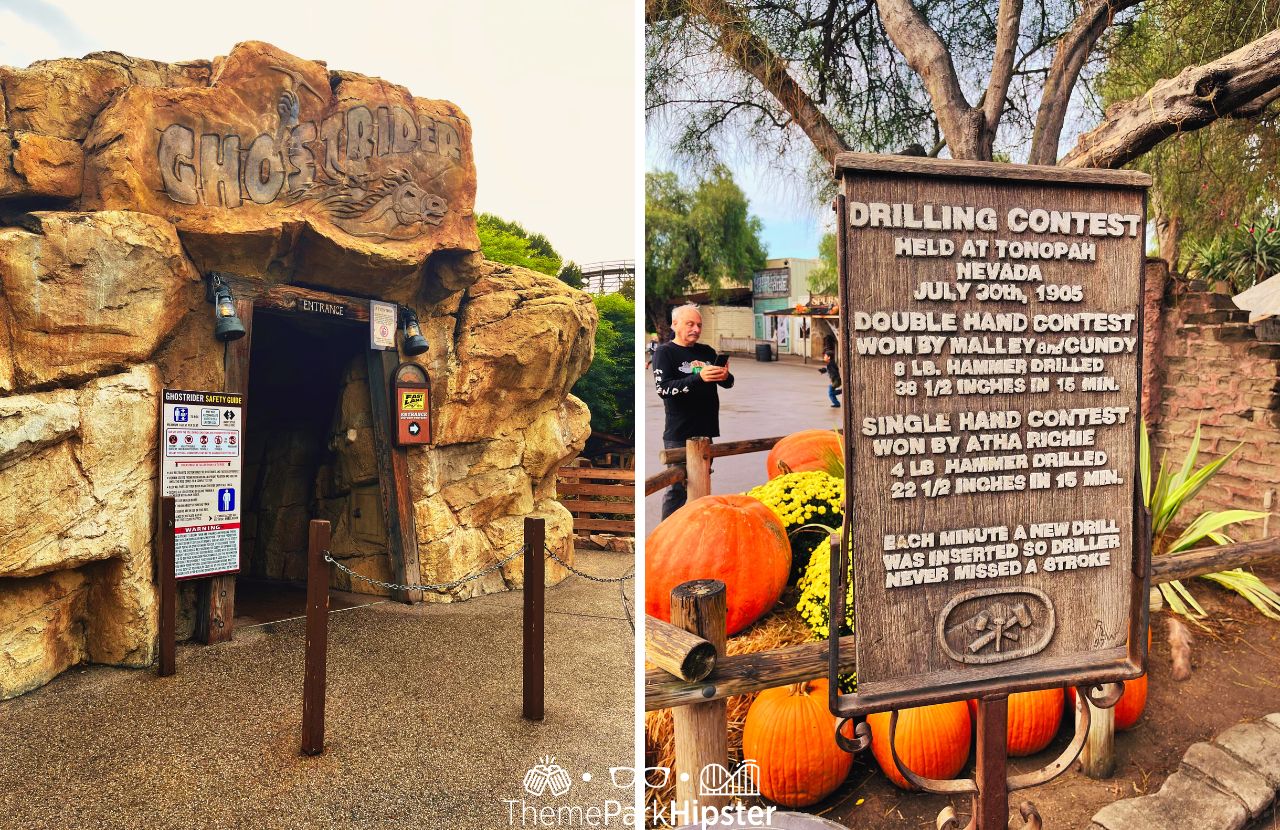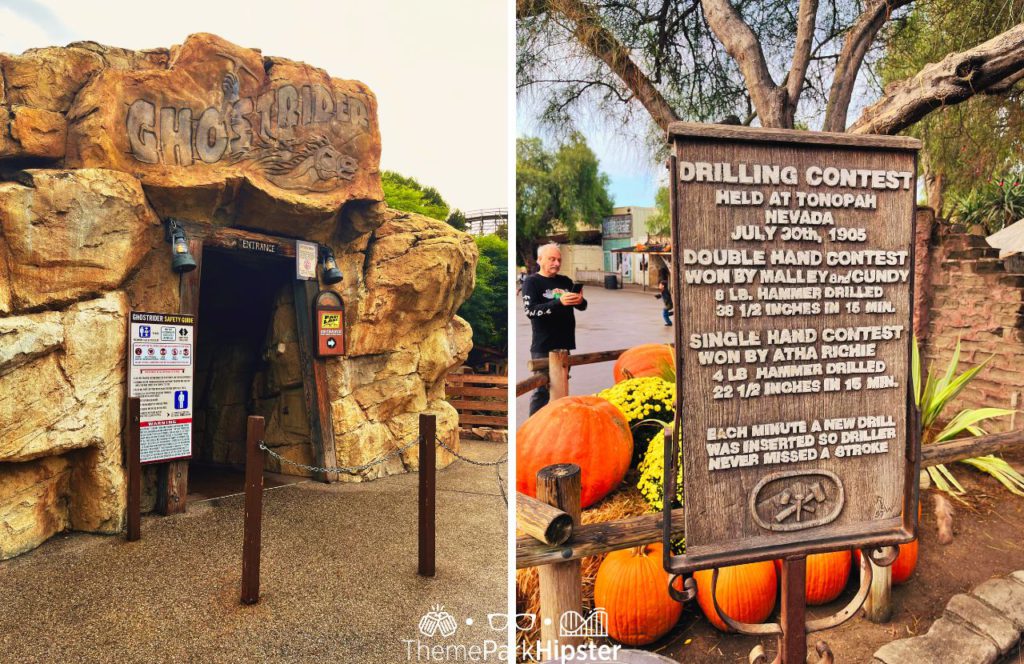 This policy is in effect until further notice and subject to change. Chaperones must accompany anyone 17 and under on all event nights for Knott's Scary Farm, as well as weekends during normal operating hours.
Overall, is Knott's Scary Farm worth it?
Very quickly into the night, I discovered why Knott's Scary Farm is considered one of the absolute best haunt events in the whole country.
The scare actors are absolutely fantastic, and the mazes are freakishly creative, unique and offer visitors amazing storytelling and memorable experiences.
The best part is the fact that this event is very affordable while not skimping on anything for their guests.
I left extremely impressed and cannot say enough good things about it besides the fact that i wish i could have done a tour and Boo-Fet!
Make sure to add this to your theme park haunt to-do list this season.
What did you find the most intriguing about Knott's Scary Farm? Let us know in our Facebook Group!
About the Author
UP NEXT: Halloween Horror Nights at Universal Studios Hollywood Full Guide: Tips, Tickets, and more!