Are you ready to go on an African adventure at Walt Disney World? If you are, you can try African-inspired food in an amazing open air plaza with four unique walk-up windows in Harambe Market.
This unique area of Animal Kingdom opened back in May of 2015 and has been one of the great additions to this incredible Disney theme park.
THIS POST MAY CONTAIN AFFILIATE LINKS. PLEASE READ MY DISCLOSURE FOR MORE INFO. Which means if you click on certain links, I may receive a small commission at no additional charge to you.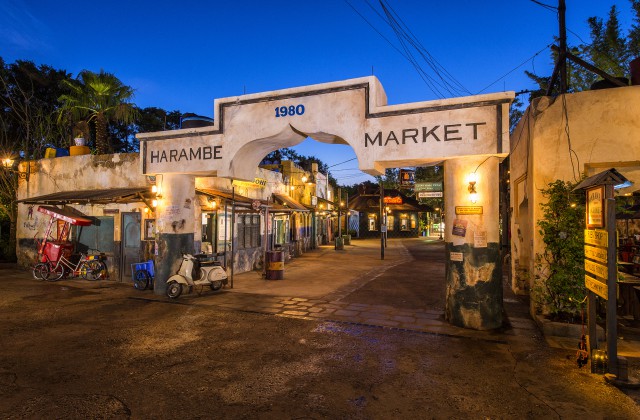 What to Expect at Harambe Market in Animal Kingdom
If you take the path that's nearest to Asia, by the African drums, you'll enter into an old colonial area where you can see an old train depot left in time.
As if the citizens of this market are just going about their daily lives.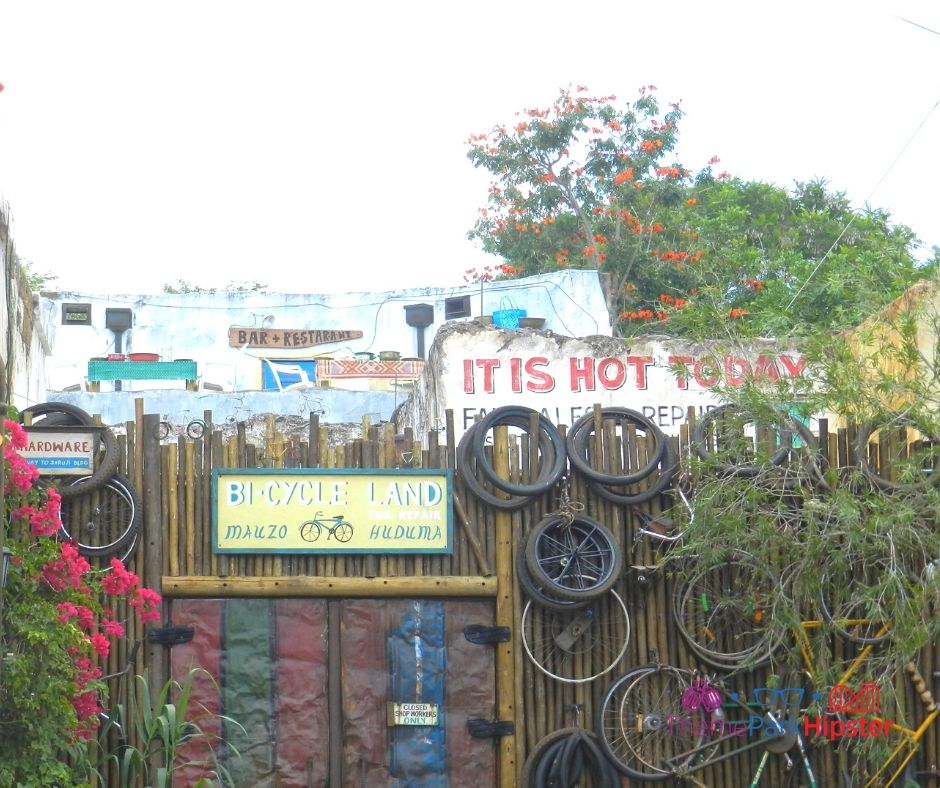 There's the iconic water tower allowing you to see that it's a place to make travelers from all over the world feel like they are in the heart of the Harambe life.
ORDER NOW to secure your Orlando theme park ticket reservation in the parks! GET MY TICKETS.
There are four food stations:
Kitamu Grill: where you will want to get your chicken bowl
Famous Sausages: where you will want to get that delicious sausage treat that's covered with sauteed onions
Chef Mwanga's: where you can get the famous rib bowl
Wanjohi Refreshments: where you can get a delicious cocktail that's special to Animal Kingdom
Besides the perk of enjoying a delicious adult beverage at Disney, you'll get to enjoy it with your food under the covered shaded area of Harambe Market.
Harambe Market Menu
Dessert
Watermelon Shave Ice
Pineapple-Coconut Shave Ice
Passion Fruit Shave Ice
Most Beautiful Cake: Coconut Cake topped with creamy Coconut Mousse filled with a Pineapple center and accompanied by Coconut Crisps
Entrees
Ribs Bowl: Ribs on Cilantro Rice and Salad Greens Bowl finished with Salsa
Chicken Bowl: Grilled Chicken on Cilantro Rice and Salad Greens Bowl finished with Salsa
Chicken Gyro: Grilled, Chopped Chicken served open-faced on Naan topped with Cucumber and Tomato Salad and Tzatziki Sauce and served with African Coleslaw
Beef and Lamb Gyro: Thin-sliced Gyro Meats served open-faced on Naan topped with Cucumber and Tomato Salad and Tzatziki Sauce and served with African Coleslaw
Pork Sausage: Pork Sausage served open-faced on Naan Bread with a Curry-Ketchup Onion-Relish
Roasted Vegetable Bowl: Roasted Vegetables on Cilantro Rice and Salad Greens Bowl finished with Salsa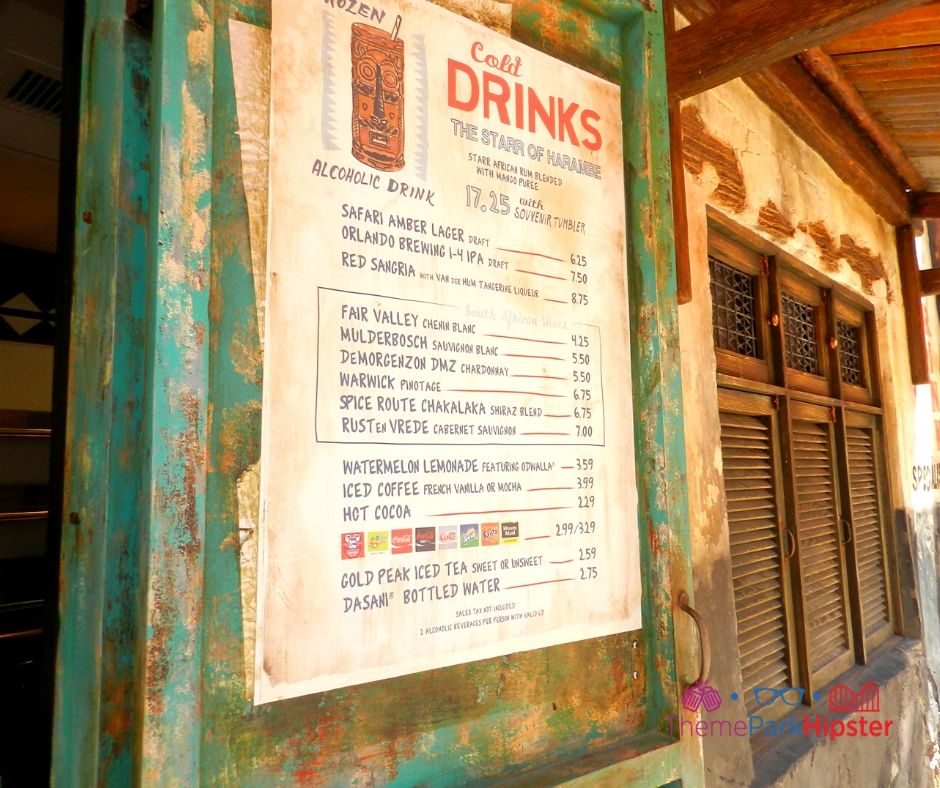 Beverages
Frozen Flamingo: non-alcoholic frozen concoction with flavors of Strawberry and Passion Fruit
Watermelon Lemonade: non-alcoholic
Leopard's Eye: Snow Leopard Vodka blended with Kiwi-and-Mango Flavored Bibo
Safari Amber Lager: Malty, slightly sweet taste balanced with European grown Noble Aroma Hops
Reef Donkey APA Draft: secret selection of Hops gives this Dry Beer a Lemon-Lime Aroma with a Citrus and slight Tropical Fruit flavor
Tusker Lager: Malty sweetness with just a hit of bitterness from the Hops
Serengeti Sangria: with Van der Hum Tangerine Liqueur
Vodka Passion Fruit Shave Ice: Snow Leopard Vodka with Passion Fruit over Shave Ice
Piña Colada Shave Ice: Parrot Bay Rum with Piña Colada over Shave Ice
Vodka Watermelon Shave Ice: Snow Leopard Vodka with Watermelon over Shave Ice
Have a DIFFERENT kind of Orlando vacation with a Resort home next to Disney World. Find Your Disney Resort Vacation Rental here!
5 Easy Tips for Your Visit
Use mobile ordering
Look up and down and around for all the unique things and decor that's going on that tells a story
Experience the Circle Of Flavors Harambe at Night, which is the progressive dinner at Animal Kingdom that serves hors d'oeuvres, snacks, beverages, and dinner all over the incredible African acoustic music.
Decide what you want to get before you get there, because there are four different unique booths. If it's a busy day, you're going to want to make sure you go to the booth that has your must try snack item.
Remember there is little seating in this area, so you want to make sure you come before and after the lunch or dinner rush.
Ready to start planning your next Disney World vacation? Listen to the latest podcast episode on Apple or on your non-Apple device now!
Final Thoughts
Overall, Harambe Market at Animal Kingdom is a very incredible escape that I like to go to  relax and take a break from everything that's going on in the park on my solo trips.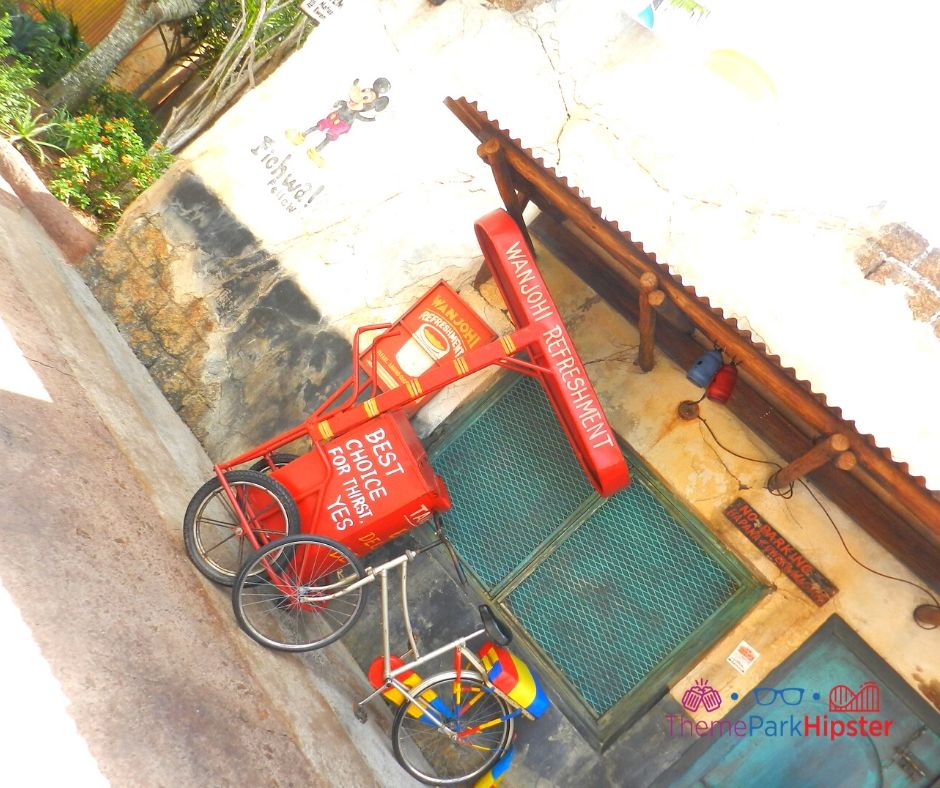 Not only because it's a well themed area, but I actually love the food here. I know that there are some people who are critical of this area.
However, I've only had positive experiences in Harambe Market.
Plus, there are at times where you can see a special Cast Member walking around singing songs on the special acoustic instrument that they play while strolling through the African area of the park.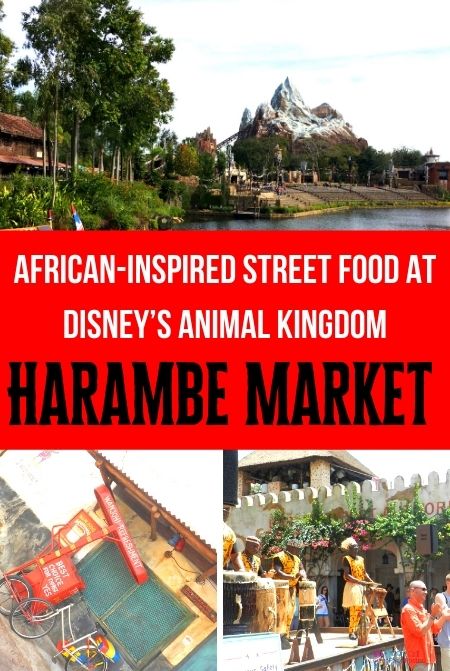 Until next time, Happy Park Hopping Hipsters!
NikkyJ
UP NEXT: 13 Pro Tips For Disney's Animal Kingdom to Make Your Day Easy
Original Article June 5, 2015/Updated July 26, 2020)