Did the ThemeParkHipster really go there?
Yes I did 🙂
Why?
Because the other day I was checking out YouTube to watch past Walt Disney World documentaries and low and behold I came across some old videos of Walt Disney World Inside Out. One of my absolute favorite shows ever produced on the Disney Channel!
So how did Walt Disney World Inside Out become the best?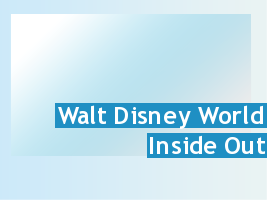 5 Reasons:
1- Made a way for bloggers and theme park content producers today…we all run on the same format as they did in delivering information. Only today we have much more avenues to release our Theme Park content across the world.
2- Cutting Edge. I know those are strong words to use for a TV show in the 90s, but for someone who only visited Walt Disney World once every few years this show gave me a wonderful insight on Disney like never before. I know it wasn't just me who felt this way.
Before Walt Disney World Inside Out, you had to rely on your local newspaper or the free (only produced annually) Walt Disney World vacation guide video. We were also able to dive right into the weekly magical Disney updates with, Scott Heriott, the original host. He would take us on tours of the newest Disney projects in production at that time…of course his version was always a bit whimsically, sarcastic and slightly offensive 🙂
3- The Show Hosts. There's no way I could make this list without mentioning the talented hosts throughout the years. They were the epitome of classic TV hosts that only people of the 90s can understand. After all, TV was our internet so any on camera talent had to be great and able to connect to the audience.
Get the best price on your Walt Disney World Vacation Package… Guaranteed!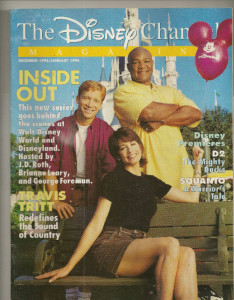 Walt Disney World Inside Out Hosts:
Scott Heriott (Original Host)
Brianne Leary
George Foreman
JD Roth
Talia Osteen (Teen Host)
4- Great TV programming. There was no DVR! If you wanted to see what "hair raising" ride George Foreman was going to try to conquer for the week or which celebrity guest would have Brianne Leary going goo goo gaa gaa over, then you had to be in place.
5- It just flowed. It was a peaceful calm before the Millennium influx of websites and social media competition of who delivered the best Walt Disney World news. It was perfect for Disney fans during the 90s and helped usher us into a new wave of Walt Disney World culture.
Walt Disney World Inside Out (Episode 03 – August 1994)
Walt Disney World Inside Out will always be one of my favorite Disney nostalgic programming. I will always appreciate the consistent behind the scenes footage that provided us with a one stop place for phenomenal Disney news!
WALT DISNEY WORLD INSIDE OUT
What do you remember the most about Walt Disney World Inside Out and what was your favorite episode?
NikkyJ
Disclaimer: This is not an affiliate sponsored post. I just happen to love doing all things theme park related for fun

!