Halloween Horror Nights VI Journey Into Fear marketing featured a demented creature lurking in the dark, chanting the tagline in advertisements. The event featured three mazes, one scarezone, three shows, and an all new parade. The event was held for fifteen nights from October 11th to November 2, 1996.
Halloween Horror Nights 1996 was the first year to see the Festival of the Dead Parade, a Mardi Gras-style parade. The Crypt Keeper was not the icon that year; however, he was still featured in the event with his own house and as the leader of the parade.
HHN 6 was also the debut of Terminator 2: 3D at Halloween Horror Nights.

Year: 1996
Dates: October 11, 12, 17-19, 23-28, 30, 31, November 1- 2
Icon: None
Theme/Tagline: Journey Into Fear
Claim to Fame: The event featured the return of The Crypt keeper, who hosted his own parade.
Location: Universal Studios Florida
Event Hours: 7:00 PM – 12:00 AM
Ticket Prices: $38 + tax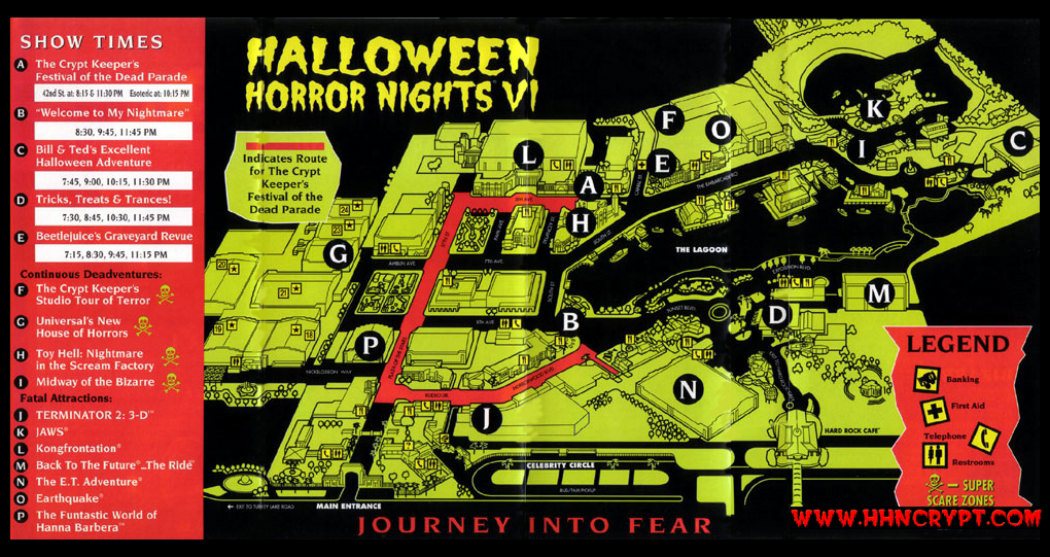 Photo: HHN Crypt
Mazes
Crypt Keeper's Studio Tour of Terror

Location: Earthquake Queue A relentless series of monsters and maniacs awaits as the Crypt Keeper guides you through a monster-filled studio tour loaded with fiendish surprises.

Toy Hell: Nightmare at the Scream Factory

Location: Nazarman's Explore an abandoned toy factory and quickly learn the ancient, terrifying secret held within…the toys are alive and in no mood for company.

Universal's New House of Horrors

Location: Sound Stage 23 Visit this most uncommon wax museum where a lightning strike has had an electrifying effect on its two new exhibits, "Universal Classic Monsters" and "Real Life Horrors."
Scarezones
Midway of the Bizarre Location: Amity
Shows
Bill and Ted's Excellent Halloween Adventure V Location: Wild West Stage
Tricks, Treats and Trances Location: Animal Actor's Stage
Welcome To My Nightmare Location: New York Library
The Crypt Keeper's Festival of the Dead Parade Location: Parade Route Throughout Park
Halloween Horror Nights VI 1996 Festival of the Dead Parade at Universal Studios Florida
Universal Rides Opened During the 1996 Event:
Back to the Future: The Ride
Beetlejuice's Graveyard Revue
Earthquake The Big One
E.T. Adventure
Funtastic World of Hanna-Barbera
Kongfrontation
Terminator 2: 3D
Until next time, Happy Park Hopping Hipsters!
NikkyJ
Special shout out to Wiki, HHN Crypt, HHN Yearbook, HHNightmares, Parks Rumor, The Catacombs of Halloween Horror Nights Podcast for the wonderful information!