In 1995 Universal had to find a way to recreate Halloween Horror Nights due to its popularity. The pressure to top previous years was present with the event creators. This problem led to the creation of a main character to distinguish each year.
Halloween Horror Nights V was the first year an "icon" or single figure was presented, The Crypt Keeper. This icon was from the HBO series Tales From the Crypt where he told creepy stories and life lessons in a not so traditional way.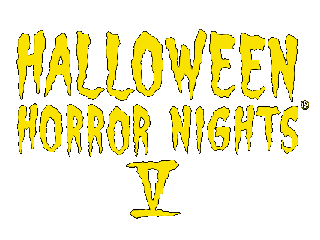 More concerns popped up in the fifth year as Halloween Horror Nights fame grew. Concerns to avoid religious overtones were considered as Universal "Scream Team members" explored Cajun country, Hollywood, and the New York subway system for haunted inspirations. (Orlando Sentinel)
"We don't make any religious overtones – nothing satanic. We don't go there," Zimmerman said in an Orlando Sentinel interview. "We've had witches call us who were concerned that we would portray them in an unhealthy light and we respect that."
Halloween Horror Nights 1995 brought:
The term "scareactors"
Was the first year to feature Midway of the Bizarre Scarezone
Introduced the use a roman numeral character in the logo
There were also thoughts of adding a children's area to draw in more families, but that didn't happen.
1995 PROMOTIONAL VIDEO
Halloween Horror Nights V Commercial
Year: 1995
Dates: October 13-14, 19-21, 25-31, November 1st and 2nd
Icon: The Crypt Keeper
Theme/Tagline: The Curse of the Crypt Keeper
Claim to Fame: Event icon was officially introduced at this year's event.
Location: Universal Studios Florida
Event Hours: 7:00 PM to 12:00 AM
Ticket Prices: $32 to $37.00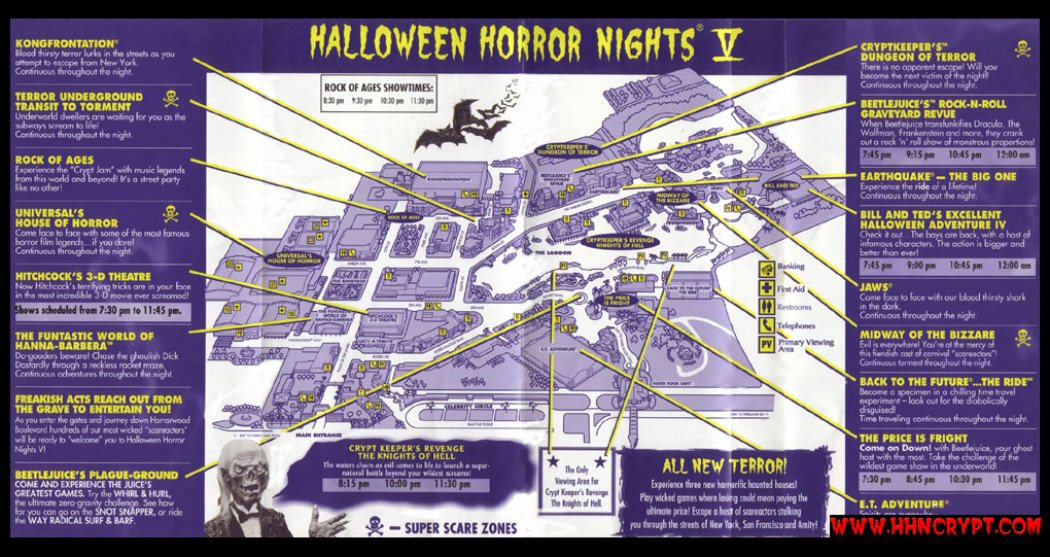 Photo: HHN Crypt
Mazes
Cryptkeeper's Dungeon of Terror

Location: Earthquake Queue In a maze with no escape, guests will become the next victims.
Terror Underground: Transit to Torment

Location: Nazarman's A journey through the subways of New York with underworld dwellers are waiting for you as the subways scream to life!

Universal's House of Horrors

Location: Soundstage 23 Guests meet Hollywood's horror film legends which are back from the grave. The Phantom of the Opera, Frankenstein and Dracula are just a few of the familiar faces greeting visitors.
Scarezones
Horrorwood Blvd Location: Hollywood
Freakish acts reach out from the grave to entertain you!
Midway of the Bizarre Location: Amity
A peaceful fishing village of Amitiville has been transformed into a carnival of horrors.
Shows
Bill and Ted's Excellent Halloween Adventure IV Location: Wild West Stage
The boys are back for more ghastly shenanigans.
Crypt Keepers Revenge- Knights of Hell Location: Lagoon
The centerpiece show that features plenty of pyrotechnics, fireworks and lasers.
The Price is Fright Location: Animal Actor's Stage
Come On Down with Beetlejuice, your ghost host with the most…if you dare to take the challenge of the wildest game show in the world!
Rock of Ages Location: New York Library
A rock-and-roll revue with crypt jams.
BEHIND THE SCENES OF HALLOWEEN HORROR NIGHTS 1995
Making of Halloween Horror Nights Orlando - 1995
Universal Rides Opened During the 1995 Event:
Back to the Future: The Ride
Beetlejuice's Graveyard Revue
E.T. Adventure
Earthquake The Big One
Funtastic World of Hanna-Barbera
Hitchcock's 3-D Theater
Kongfrontation
Halloween Horror Nights V set the tone and blueprint for the event that we witness to this day. The creators found that Halloween sweet spot and has continued to top themselves each and every year.
Until next time, Happy Park Hopping Hipsters!
NikkyJ
Special shout out to Wiki, HHN Crypt, HHN Yearbook, HHNightmares, Parks Rumor, The Catacombs of Halloween Horror Nights Podcast for the wonderful information!