Halloween Horror Nights III was marketed as the 3rd Annual Universal Studios Florida Halloween Horror Nights and was held for five nights. Creators for HHN 1993 brought in consultants, the Elm Street Hauntreprenuers of Irving, Texas, who recommended Universal concentrate more on startling people than grossing them out. Halloween Horror Nights III was also the first year of three different mazes, two with brand new concepts.
Year: 1993
Dates: October 23rd, 24th, 29th, 30th, and 31st
Icon: None
Theme/Tagline: None
Claim to Fame: Norman Bates gets his chance to terrify guests.
Location: Universal Studios Florida
Event Hours: 6:30 PM to 12 AM
Ticket Prices: From $28
Scarezones: None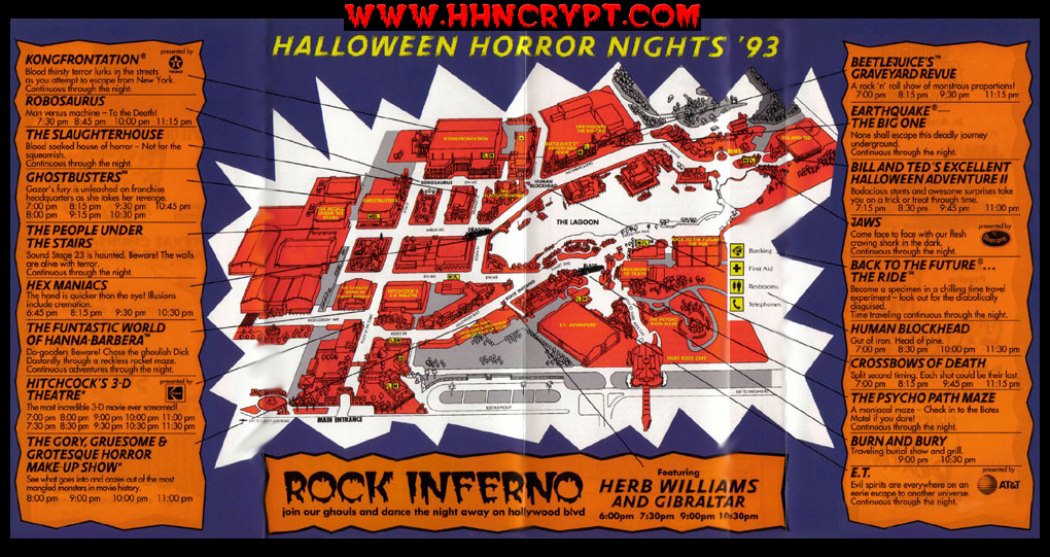 Photo: HHN Crypt
Mazes:
The Slaughterhouse

Location: Blood soaked house of dismay.

The Psycho Path Maze

Location: Bates Motel Check into the Bates Motel if you dare.

The People Under the Stairs

Location: Soundstage 23 A haunted house where the walls are alive with horror.
Shows:
Bill and Ted's Excellent Halloween Adventure II Location: Wild West Stage
A rock n roll show of epic terror!
Burn and Bury Location: Traveling Show
Traveling burial show.
Crossbows of Death Location: Animal Actors Stage
Split second timing. Each shot could be their last.
Hex-Maniacs Location: New York Streets
A magical show where the hand is quicker than the eye; featuring illusions, including a cremation.
Human Blockhead Location: San Francisco
Gut of iron, head of pine…
Robosaurus Location: New York Streets
Man vs. Machine to the death!
Rock Inferno Featuring Herb Williams and Gibraltar Location: Hollywood
Ghouls dancing and rocking the night away.
Universal Rides Opened for 1993 Event:
Back to the Future: The Ride
Beetlejuice's Graveyard Revue
E.T. Adventure
Earthquake The Big One
Funtastic World of Hanna-Barbera
Ghostbusters
Hitchcock's 3-D Theater
Jaws
Kongfrontation
The Gory, Gruesome, Grotesque Horror Make-Up Show
Until next time, Happy Park Hopping Hipsters!
NikkyJ
Special shout out to Wiki, HHN Crypt, HHN Yearbook, HHNightmares, The Catacombs of Halloween Horror Nights Podcast, The Orlando Sentinel for the wonderful information!