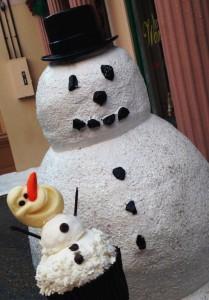 Let's celebrate Frozen Summer Fun with new specialty cupcakes!
Three new cupcakes will be sold as part of 'Frozen Summer Fun' at Disney's Hollywood Studios. The Olaf cupcake is a carrot cupcake with cream cheese icing and a white chocolate Olaf. The Olaf cupcake is available for just $5.19 at select quick service locations: Studio Catering Co., Pizza Planet Arcade, ABC Commissary, Rosie's All-American Cafe, Backlot Express, Fairfax Fare, Oaken's Funland, Starring Rolls Cafe,and Coffee Cart. Anna and Elsa cupcakes are also available. The Anna cupcake is chocolate with buttercream, and the Elsa cupcake is vanilla with buttercream. Both are topped with a themed white chocolate medallion. These cupcakes are available for $5.19 at the following locations: Backlot Express, Oaken's Funland, and Starring Rolls Cafe. These treats are part of the Disney Dining Plan and will be available through Sept. 1 Sept. 30.
Check out what guests are saying about Disney's 'Frozen Summer Fun' courtesy of Disney Parks Blog.
Be sure to contact Laura at Destinations in Florida for the latest 'Frozen Summer Fun' information!